The Bee Jays Work Late but Suffer a Familiar Fate
KSCB News - July 20, 2013 7:25 am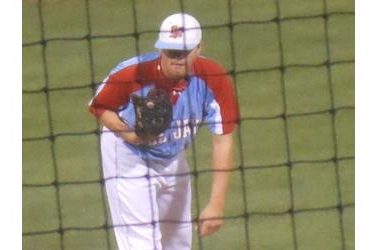 The Bee Jays fall to 1-4 in extra inning games with an 8-7 11 loss to the El Dorado Broncos Friday night at Brent Gould Field. This one stings as it assures the BJ's can't have a winning league season after five straight winning seasons in the league. It also stings because the BJ's led 5-1 and 7-3 early in the game.
Liberal scored two in the first when Seth Stevens singled home a run and Tyler Floyd doubled home a run. Liberal scored three runs on two hits in the fourth. Zach Reding grounded out to score a run and Darrien McLemore singled home a run. The BJ's scored two runs on one hit in the fifth scoring one run on an El Dorado error and one run on a double steal.
The Broncos scored four in the sixth to tie it. It was somewhat of an agonizing night for the Broncos who won despite stranding 20 runners on base and outhitting the BJ's 19-9. Head coach Chad Gerwick and shortstop Johnny Coen were both ejected for arguing a call.
Tyler Wiedenfeld pitched five innings striking out seven without a walk and allowed 10 hits and three runs. The BJ bullpen allowed five runs in six innings.
The Broncos are 17-11 in the Jayhawk and have won four one run games over Liberal. The Bee Jays are 20-17 overall and 14-17 in the Jayhawk. The teams meet at 7 Saturday night with the Bank of Beaver City the buyout sponsor.
Elsewhere Friday night, Hays won 9-3 over Derby at Hays and Wellington thumped Dodge City 12-2 at DC.
Standings
Hays 20-9
El Dorado 17-11
Wellington 17-12
Liberal 14-17
Derby 12-18
Dodge City 8-21