Thais Baziquetto-Allen Named to AVCA's 30 Under 30 List
Joe Denoyer - April 6, 2017 11:36 am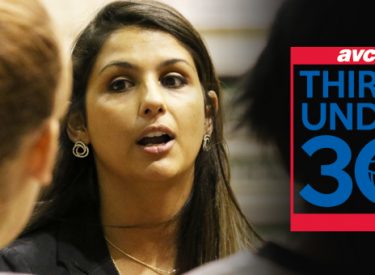 The American Volleyball Coaches Association announced its Thirty Under 30 Awards on Thursday, naming Seward County Head Coach Thais Baziquetto-Allen as one of the top 30 coaches in the country under the age of 30, across all levels of volleyball this season. 
 Baziquetto-Allen was one of just three NJCAA coaches to receive the award this year, joined by Iowa Western's Alicia Williams and Arizona Western's  Lorayne Chandler, and one of just six NJCAA all-time to get the nod.  12 NCAA Division I coaches, five club coaches, four NCAA Division III coaches, and three NCAA Division II coaches joined Baziquetto-Allen on the list in 2017.  The AVCA saw a record number of nominations for their Thirty Under 30 award this year.  AVCA Executive Director Kathy DeBoer said of this year's class "The young talent in volleyball coaching is just outstanding.  As exciting as these 30 award winners is the fact that almost 200 young coaches were nominated for consideration. It's a good time to be a volleyball coach!"
 Baziquetto-Allen led Seward to a banner year in 2017 that included their Region VI Championship and trip to the NJCAA National Tournament since the 2003 season and their first Jayhawk West Conference title since 2009.  The Lady Saints finished 27-11 overall last season, going 14-2 in conference play to share the title with rival Hutchinson.  They went on to sweep through the Region VI Tournament and advance to the National Tournament where they posted an 11th place finish.  Baziquetto-Allen was named the Jayhawk West Coach of the Year and the NJCAA District G Coach of the Year for her efforts.  In two seasons as Head Coach for the Lady Saints, Baziquetto-Allen has amassed a 53-26 overall record and a 27-5 mark in Jayhawk West Conference play. 
 Upon being named as an award recipient, Baziquetto-Allen said "It means a lot. It is recognition for all of the long hours and hard work that I have put into coaching for the past eight years. More than for just myself, this award is recognition for all of my players and coaches that have bought into our system and given all they have had while they were here at Seward County. To look around and see all of the talented coaches out there and to be chosen as one of the top 30 under the age of 30 is truly an honor."
 Asked who she would like to thank for helping her achieve the award, Baziquetto-Allen said "I first want to thank my family for supporting my decision to come to the United States 12 years ago to start this journey as a player.  My former coaches Scott White and Jim Callender for giving me the opportunity to play for them at St. Pete and Western New Mexico.  I also want to thank Scott Hinkle, Bert Luallen, and Galen McSpadden for trusting me with their programs first at Liberal High School and now here at Seward County. Thank you to my husband/SID/therapist/sometimes assistant coach Roy for being there for whatever I need throughout the year. Last but not least, I want to thank each one of my players and their families, as well as all of our staff at SCCC for putting in extra time and making sacrifices to make sure that our program is successful both on the court and off the court."