Thais Allen Leaves Seward for Florida
Brock Kappelmann - July 11, 2018 9:39 am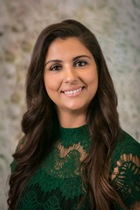 Article from Florida Southwestern State
After a national search, FSW Director of Athletics George Sanders announced that Thais Baziquetto-Allen has been selected to lead the Florida SouthWestern volleyball program, which is set to start competition in the fall of 2019. Baziquetto-Allen comes to FSW after spending the last three seasons as the head coach at Seward County CC in Liberal, Kan.
In her three years as the head coach with the Lady Saints, Baziquetto-Allen amassed an overall record of 86-28 (.754), while going 43-5 (.896) in Jayhawk West play.
Baziquetto-Allen was one of just three NJCAA coaches to receive an American Volleyball Coaches Association (AVCA) Thirty Under 30 Award in 2017. She was joined by Iowa Western's Alicia Williams and Arizona Western's Lorayne Chandler, and she is one of just eight NJCAA coaches all-time to get the award. The AVCA's Thirty Under 30 Award was created in 2009 to honor up-and-coming coaching talent at all levels of the sport. To qualify for the award, nominees had to be 30 years old or younger in 2016.
Last season, Baziquetto-Allen led the Lady Saints to a 33-2 record and an unblemished 16-0 mark in Kansas Jayhawk Community College Conference (KJCCC) play, winning their first back-to-back Jayhawk West titles since 1999-2000. The Lady Saints tied the program record for highest ranking, reaching No. 3 in the NJCAA National Polls. Seward placed a program record six players on the Jayhawk West All-Conference team, with Baziquetto-Allen winning Coach of the Year and setter Giovanna Kuntze winning Most Valuable player. Kuntze was also named 1st Team NJCAA All-American, marking back-to-back years that Baziquetto-Allen had coached All-Americans.
Baziquetto-Allen led the Lady Saints to a historic season in 2016 as Seward captured their first Jayhawk West Conference Championship since 2009 with a 14-2 record, as well as leading the Lady Saints to their first Region VI Championship since 2003. In their first NJCAA National Tournament berth since the 2003 season, the Lady Saints finished in 11th place. Baziquetto-Allen led five Lady Saints to All-Conference selections and the first All-American for Seward County since 2008.
In her first year at Seward CC (2015), Baziquetto-Allen led the Lady Saints to one of their most productive years in recent memory, leading them to their most conference wins since the 1998 season and to their first Region VI Tournament Championship game appearance in five seasons. Seward finished 26-15 in 2015, going 13-3 in Jayhawk West Conference play. Baziquetto-Allen guided three All-Conference players in her first season and all three Lady Saint sophomores signed four year scholarships at the end of the season.
As an assistant with the Lady Saints in 2014, Baziquetto-Allen coached three All-Conference players for Seward and helped the Lady Saints to a third place finish in the Jayhawk West standings with a 23-19 overall record.
Prior to getting to Seward CC, Baziquetto-Allen served as the head coach at Liberal High School. She was 97-57 in four seasons as the leader of the Lady Redskins. In 2013, Baziquetto-Allen guided Liberal to a 23-18 record and a second place finish in the Western Athletic Conference. In 2012, Baziquetto-Allen led Liberal to a 28-14 season and just one win short of a WAC Championship. For her efforts in 2012, Baziquetto-Allen was named the WAC Coach of the Year.
Prior to her four year stint at Liberal, Baziquetto-Allen was an Assistant Coach at Lamar Community College in Colorado. In her only season with the 'Lopes, Baziquetto-Allen helped Lamar to a 26-win season, which included her recruitment of three All-Conference players.
The Baziquetto-Allen File:
Seward County C.C. (Head Coach): 2015-2018
Seward County C.C. (Assistant Coach): 2014-2015
Liberal High School (Head Coach): 2010-2014
Lamar C.C. (Assistant Coach): 2009-2010