Texhoma Looks to Continue District Consistency
KSCB News - August 17, 2009 12:00 am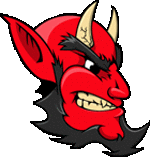 The Texhoma Red Devils have established themselves as one of the top programs in District 1A. The Red Devils went 7-3 last year in what was supposed to be somewhat of a building year. They are two years removed from a 10-2 district championship season. Head coach Steve Neptune says expectations are lofty in Texhoma again this year.
"What we've talked about is we're going to go day by day, step by step, and let's take care of business on that day," Neptune says. "We've focused hard on being a team and getting teamwork and understanding that has to take place first before we can go anywhere. We have a team motto right now I think is going to stick 'teamwork will make the dream work' and that dream is the state championship"
The Red Devils return their starting quarterback Matt Freeman, running back Cruz Holguin, and last year's leading receiver J.D. Pugh. Two of the Red Devils' top returning linemen Bryer Smith and Enrique Duran will anchor the line. The Red Devils return seven starters on defense.
"We have a lot of personalities," Neptune said. "The seniors are a very confident group and the freshmen don't have a clue what's going on yet so they are a little mouthy. The juniors and sophomores are more quiet. We have a mixture of both so if we can get it all together I think we'll be pretty good."
Neptune is entering his sixth year at Texhoma. He says it's a great fit. "We have the best support of just about anybody in the state," Neptune said. "There's some road games when we travel four and a half hours and we do a good job of filling the stands. Our fans follow us wherever we go. They do anything they can for the boys. They are great people and it's a great place to live. The boys work hard and do what we tell them. They show us they're here to do a job. You can't be at a better place right now than Texhoma."
Neptune was a guest on the Sportsguys Monday morning.
2009 Schedule
Sep. 4 vs Gruver
Sep. 11 @ Chisholm High School
Sep. 18 vs Oklahoma Bible Academy
Sep. 25 @ Okeene High School
Oct. 2 vs Pioneer – Pleasant Vale
Oct. 9 @ Hennessey High School
Oct. 15 vs Beaver High School
Oct. 23 @ Mooreland High School
Oct. 30 @ Turpin High School
Nov. 6 vs Hooker High School