Texas County Runoff Election Tuesday
KSCB News - August 23, 2010 12:00 am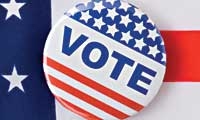 Polls will be open tomorrow from 7 to 7 for the first runoff election Texas County has seen in more than ten years.
Facing off for the position of Texas County Assessor are Republicans Judyth Campbell and Jerry Tucker. Both have been employed at the County Assessor's Office for more than nine years. Campbell and Tucker have also both completed and passed the same seven courses required by the State of Oklahoma to be Assessor.
The job of Assessor entails estimating the value of property and houses. The value is then converted into an assessment by computer to determine property taxes. Several Oklahoma counties have repealed personal property taxes, and a misconception to some is that the Assessor has the authority to ablosh it. That is untrue and the only people with the authority to repeal the tax are the County Commissioners and voters.
All registered Republican voters in Texas County are encouraged to vote in the run-off election tomorrow.