Texas County Man Accused of Raping, Impregnating Teen Daughter
Joe Denoyer - November 22, 2016 9:56 pm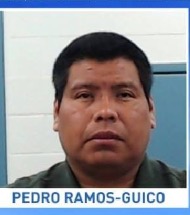 A 41-year-old man is wanted out of Texas County for allegedly raping his teen daughter and impregnating her.
According to the Guymon Daily Herald, a warrant was issued for Pedro Ramos-Guico on two charges of rape in the second degree with lewd molestation in the alternative and one charge of incest.
Ramos-Guico allegedly raped his teenage daughter 20 times, starting when the girl was 14-years-old, in homes where the family lived in both Guymon and Altus, Oklahoma.
Suspicions were brought to light when the victim gave birth to a child with multiple medical issues. Due to the medical issues, the child required genetic testing. The results of the testing showed that the father of the child is a close relative, which led officers to conclude that the father of the infant was either a parent or brother of the victim.
The outstanding warrant for Ramos-Guico's arrest has a bond set for $200,000 as requested by the state, with the condition that he does not have contact with the victim.
Ramos-Guico was arrested in Altus on charges of incest in Jackson County. He is scheduled to stand for a preliminary hearing on Dec. 14.
The infant has undergone surgery in an Oklahoma City medical facility for a heart condition.