Tennis teams Remain in the #4 and #6 Spots in the New ITA National Poll
Joe Denoyer - April 26, 2017 4:23 pm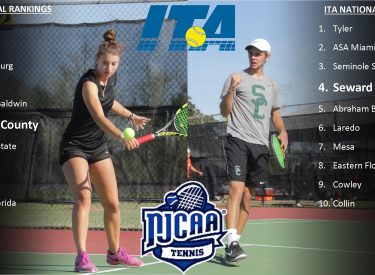 The Seward County Saints and Lady Saints Tennis teams remained in the #4 and #6 spots respectively in the new ITA National poll released on Monday while six different Saints and four Lady Saints shuffled around in the individual rankings. 
On the men's side of things, the top nine teams in the team rankings all stayed the same with the Saints checking in at #4 behind Tyler, ASA Miami, and Seminole State. 
Individually, Seward's Carlos Anez moved up one spot from #5 to #4 in the singles rankings with his 13 wins at the top spot for the Saints this season.  Making a big leap was freshman Duro Opacic who went from #34 all the way up to #12 after a fantastic rookie year in which he has gone 17-6.  Ondrej Nice moves down a couple of spots to #18 despite a 15 win regular season and a Region VI Championship.  Przemek Zielinski stays in the rankings, but drops down to #41 after a Spring season in which he went 17-7. 
On the doubles side of things, Seward's top duo of Anez and Nice lost their #1 ranking as they checked in one spot lower to #2.  Into the rankings for the first time this season is Seward's #2 doubles team of Alex Mosehle and Gabriel Nery who are ranked  12th.
In the women's poll, there was a little bit more shuffling around in the top 10, but each of the top six squads remained intact with Tyler leading the way, ASA Miami, St. Petersburg, and Broward following with Seward ranked 6th.
Individually, Thalita Rodrigues remains in the top 10 at #8 on the heels of a solid regular season while Sarah Manseri pushes her way up 22 spots to #24 with 14 Spring wins. 
Rodrigues and partner Lisa Suzuki plow their way up to #3 in the doubles rankings after going 12-7 this Spring while Manseri and Steffany Bermudez's 14 -6 record is good for a #11 ranking. 
After capturing Region VI Championships for the first time in the same season in school history, the Saints and Lady Saints now turn their sights to the NJCAA National Tournament.  The Lady Saints will be up first, heading to Tucson, Arizona on May 7th to begin play there while the Saints will have to wait a week longer to get things going in Plano, Texas.