Technical Difficulties for Saints at Hutchinson
KSCB News - January 31, 2013 6:50 am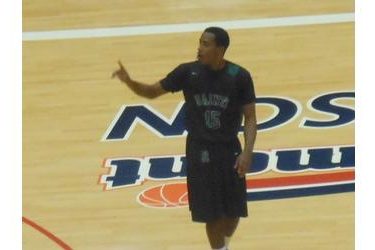 Seward built a 51-45 lead at #1 Hutchinson Wednesday night in the Hutchinson Sports Arena. But after Brian Bridgeforth's put back dunk, he was called for a controversial hanging on the rim technical foul. The Dragons went on a 21-4 run to blow the game open and beat Seward 87-74. The Dragons have a two game lead over the Saints and Barton after eight games in the conference schedule.
Hutch dominated the glass outrebounding the Saints 51-34. Edson Avila scored 20 in the loss and Leslee Smith added 14 while Kaheem Ransom and Malcolm Hill Bey scored 13 a piece and Jabari Peters had 12.
The Saints built an early 19-4 lead by getting the ball inside. Smith and Avila were a combined 17-21 for the field but Seward struggled from three point range going 1-14.
The Saints lose their seventh straight to the Blue Dragons in the Hutchinson Sports Arena and are 4-41 against Hutch in that building. Seward is 15-7 overall and 6-2 in the Jayhawk West as #1 Hutch is 22-0 and 8-0 in the Jayhawk West.
The Saints play for second place at Barton Saturday night at 7:30 on B107.5 and kscbnews.net.
Wed. Jan. 30
Cowley def Labette 61-58*
Highland def Neosho County 70-63*
Dodge City def Butler 63-54*
Fort Scott def Independence 96-91 2OT*
D1#19 Barton def Cloud County 60-41*
D1#1 Hutchinson def D1RV Seward County 87-74*
D2RV Hesston def D2#8 Brown Mackie 101-97 OT**
Colby def Pratt 69-65*
Johnson County def Allen 65-54*
D1#4 Coffeyville def Kansas City KS 71-65*