TCEC's Own Austyn Ordonez Is The Lucky Winner of Dolly Parton's Imagination Library 200 Millionth Book Milestone
Joe Denoyer - November 7, 2023 10:31 am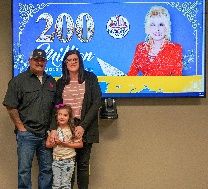 Dolly gifted a special bookmark to seven children in her Imagination Library program as part of "200 Million Reasons to Celebrate"
Inspired by her father's inability to read and write, Dolly Parton started the Imagination Library in 1995 to serve the children of her hometown in Sevier County, Tennessee. Today, her program spans five countries and gifts over 2.4 million free books each month to children around the world, and recently, they surpassed another landmark of gifting 200 million books. TCEC has been proudly helping to bring the Dolly Parton Imagination Library to our service area since July 2022. Over 132 children have graduated from the program, and 522 are enrolled.
This fall, to celebrate this global 200 million book milestone, seven enchanting Dolly bookmarks were randomly hidden inside Imagination Library books sent in September. To her surprise, Austyn Ordonez from Beaver was one of the seven lucky winners worldwide. "I thought it was a scam," said Austyn's mom, Ashley. She was aware of the bookmark giveaway but thought there was no way they could be the winners.
Recipients of the seven random Dolly bookmarks received a video chat with Dolly, a personalized signed letter from Dolly, an autographed photo from Dolly, and four Dollywood Theme Park tickets. This past Saturday, Austyn claimed the first part of her prize, a video chat with Dolly herself. Austyn, outfitted in her pink Dolly Parton t-shirt, along with her mom and dad, grandparents, great-grandparents, and a few other special guests, were invited to TCEC to have a special chat with Dolly. Austyn got to introduce herself to the country music icon and share her favorite book, Stand Tall Molly Lou Melon.
As part of the celebration, the Dollywood Foundation also donated $2000 on behalf of Austyn to their local Imagination Library Partner, TCEC, as a thank you to who Dolly calls the true heroes of her program. In return, The TCEC Board of Directors chose to pass the donation along to the Beaver County Pioneer Library. Library staff members Betty Davis and Paula Brinkley attended to accept the gift.
"I know there are children in communities around the world with big dreams, and the seeds of these dreams are often found in books," said Dolly. "It's been one of my greatest gifts in life to help instill a love of reading through my Imagination Library. Reaching 200 million books worldwide is a major milestone that I'm so very proud of, and I want to thank all of our local program partners, funders, and supporters from the bottom of my heart. But we're just getting warmed up; we have so much more to do! Together, we can inspire even more children to dream more, learn more, care more, and be more."
TCEC would love to see its enrollment numbers grow even more! If you have a child in the TCEC service territory between the ages of birth to five, register your child by going to www.tcec.coop/dpil. Each month, Dolly Parton's Imagination Library will put one age-appropriate, high-quality book into your child's hands. These personalized books create a gifting experience that makes books exciting.