TCEC's Commitment to Community Members Give Back to Local Communities
Joe Denoyer - November 8, 2021 8:57 am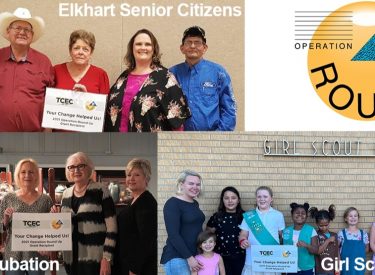 TCEC established Operation Round Up with a mission of giving funds for charitable, educational, or emergency service purposes. Members can voluntarily round their bills up to an even dollar amount, giving them a chance to make a difference in their communities. Though this may seem like small change to an individual, together, it significantly impacts organizations throughout the cooperative's service area.
This quarter, the independent TCEC Foundation board of directors awarded $15,000 to seven local organizations that applied for funds. TCEC would like to thank all members who participate in Operation Round Up to make this program possible.
The TCEC Foundation is pleased to announce the donations to the following programs.
$1,500 to Hooker Fights Hunger for the Hooker food pantry
$3,000 to Artist Incubation to support the Fall Youth Art Camp
$1,600 to Hands for Hope for freezer and bags
$2,100 to Elkhart Senior Citizens Dances
$2,200 to Girl Scouts of Texas Oklahoma Plains for a camping trailer
$2,500 to Guymon Rotary Club for the third-grade dictionaries project
$2,100 to Morton County Library for outdoor renovations
The TCEC Foundation Board of Directors meets quarterly to review applications for funds. Applications are due Jan. 1, 2022, for consideration at the next meeting on Jan. 12. Visit www.tcec.coop/oru for more information.
–