TCEC Recognizes Scholarship Recipients
Joe Denoyer - May 24, 2022 8:35 am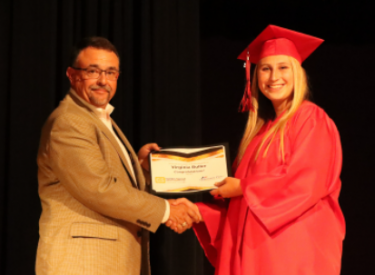 TCEC recognizes scholarship recipients
Ten area students receive $2,000 scholarships
TCEC recently recognized ten high school seniors in the Oklahoma Panhandle who received scholarships. Because Oklahoma Panhandle State University is a cooperative member, TCEC funds eight $2,000 scholarships through the Panhandle State Foundation for students who choose to attend the local university.
The following area seniors received scholarships funded by TCEC:
Yively Amador-Fernandez – Guymon
Nahomy Corral-Olivas – Texhoma
Macee Davison – Texhoma
Treyson Gift – Guymon
Brianna Heitschmidt – Turpin
John Lindley – Guymon
Maria Mejia-Medina – Hooker
Susana Sampler – Hooker
TCEC is one of 16 Golden Spread Electric Cooperative members. Golden Spread Electric Cooperative supplies wholesale power to TCEC. Contributions from endowments and directors fund eight $2,000 scholarships. Shawn Martinez is a trustee for TCEC, representing the cooperative on the Golden Spread Electric Cooperative board of directors. He presented certificates to these two scholarship recipients from the TCEC service area.
Virginia Buller – Turpin
Konner Jenkins – Guymon
"Powering our communities is part of TCEC's mission," said Zac Perkins, TCEC's chief executive officer. "We were founded on the universal seven cooperative principles, one of which is 'concern for community.' Giving back is part of who we are as a local cooperative."
To learn more about education and youth opportunities available through your cooperative membership, visit www.tcec.coop/youth.