TCEC Operation Round Up Allows Local Firefighters to Purchase New Equipment
Joe Denoyer - April 29, 2022 1:48 pm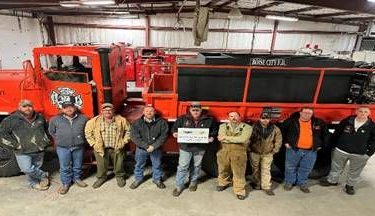 Local firefighters purchase new equipment
Hardesty, Balko, and Boise City Volunteer Fire Departments awarded Operation Round Up funds
Local volunteer fire departments, including Hardesty, Balko and Boise City, received Operation Round Up funds to purchase new gear and equipment. The three departments were awarded funds totaling $7200 in January by the TCEC Foundation.
About the purchased gear and equipment
With the Operation Round Up funds, Hardesty purchased eight sets of Veridian Wildland Gear and an automated external defibrillator (AED). The Boise City Fire Department used the funds to upgrade their hand tools and purchase needed equipment for a new pumper that they will receive later this year. Balko was finding themselves short of bunker gear, and these funds made it possible for them to purchase a new set.
The impact
These purchases help keep our firefighters safe while protecting our communities and members.
"I chose a member of Balko Fire to give the new bunker gear to," said Robert Marshall, Fire Chief of Balko Fire Department. "It made him smile. This was a much-needed thing. It fits good and looks good."
TCEC is grateful for the sacrifice and dedication of our volunteer firefighters.
TCEC members make it possible
Operation Round Up would not be possible without our members. If you are not already rounding up your bill and would like to begin, or if you would like to make a one-time contribution, visit the Operation Round Up page in SmartHub to view and change your contribution options. One-time contributions can also be made by making a check payable to the 'TCEC Foundation' with Operation Round Up in the memo line and mailing it to TCEC, PO Box 880, Hooker, OK 73945. To learn more, contact TCEC at [email protected] or 580-652-2418.
The TCEC Foundation Board of Directors meets quarterly to review applications for Operation Round Up and disburse funds. Applications are due July 1 for consideration at the next meeting on July 13. If you know of a need, encourage the charitable organization to apply at www.tcec.coop/oru.