TCEC Encourages Area Youth to Apply for Leadership Trips
KSCB News - December 23, 2014 12:09 pm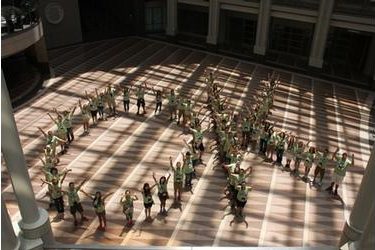 HOOKER, Okla. (Dec. 23, 2014) – Applications for TCEC's 2015 high school youth trips and the eighth grade YouthPower Energy Camp trip are now available. TCEC is looking for five delegates who are high school juniors and four who are eighth graders. Applications must be received at TCEC by February 6, 2015. All area eligible students whose parents or guardians are TCEC members are encouraged to apply.
TCEC works with the statewide electric cooperative associations in Oklahoma and Kansas to offer these leadership development opportunities to area youth. Selected students will forge unforgettable memories and lasting friendships during these once in a lifetime trips with other outstanding students from across the state. Any student who wishes to learn and meet new people will want to apply.
For the high school trips, interested juniors fill out a three-page application that includes contact information, community, school and work activities and a statement explaining why the student is a good TCEC delegate. Applications are reviewed by a panel of judges from a cooperative in Kansas. The judges select ten finalists for interviews and come to Guymon to conduct the interviews. Three finalists are selected for the gold award and two are selected for the silver award.
High School Junior Awards
Application Deadline: February 6, 2015
Gold Award: NRECA Rural Electric Youth Tour
Washington, D.C.
June 11-18, 2015
Three high school juniors and one alternate will be selected to attend the National Rural Electric Cooperative Association (NRECA) Youth Tour in Washington D.C. The trip is June 11-18, 2015. If a winner is unable to attend the tour, TCEC must be notified immediately in order to notify the alternate.
Silver Award: Cooperative Youth Leadership Camp
Steamboat Springs, Colorado
July 11-17, 2015
Two high school juniors will be selected to attend the Cooperative Youth Leadership Camp hosted by Kansas Electric Cooperatives in Steamboat Springs, Colorado. The trip is July 11-17, 2015.
Eighth Grade Award:
YouthPower Energy Camp
Canyon Camp, Hinton, Oklahoma May 26-29, 2015
Application Deadline: February 6, 2015
All eighth grade students within TCEC's service territory are eligible to enter to win a four-day trip to Canyon Camp outside of Hinton, Oklahoma. At this leadership development camp, students learn about rural electrification while also having fun swimming, hiking, riding go-carts and making new friends.
To enter to win this trip, students simply write a creative letter to their school's principal naming specific actions the school should take to be more energy efficient. They can include photos and other exhibits to support their reasoning.
TCEC pays transportation, lodging, meals and other incidental costs incurred with all trips. Students are responsible for souvenirs and extra personal items they may need during the trip.
More details and trip applications are available online at www.tcec.coop under 'Community' > 'Youth and Education.' For additional information, call TCEC at 580-652-2418 or email [email protected]