TCEC and its Employees Give $7,000 to Area Food Pantries
Joe Denoyer - November 8, 2022 10:10 am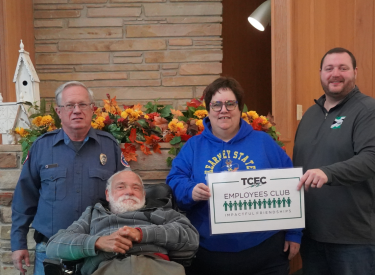 Area food pantries are thankful for their local electric cooperative and its employees this month. TCEC (Tri-County Electric Cooperative) matched donations from its employees to eight food pantries, issuing checks totaling $7,000 to help feed children, seniors and families living with food insecurity. While local results may vary, the Regional Food Bank of Oklahoma helps provide four meals for every dollar donated. That measures up to 28,000 meals made possible by the contribution.
"Keep up the good work," said Gail Parsley, president of Loaves and Fishes in Guymon. She said they are helping more people than in the past. For example, Loaves and Fishes helped 1,028 households in October, 300 more and a 41% increase from January.
Employees club member and TCEC Communications Manager JuliAnn Graham said, "All the food pantries were so appreciative of our assistance this year. Giving back to the communities we serve and live in is one of the ways we look out for each other."
The following food pantries received funds.
Beaver County, Oklahoma
Beaver Ministerial Alliance, Beaver
Families Helping Families, Beaver
Turpin Community Food Pantry, Turpin
Cimarron County, Oklahoma
Cimarron County Food Pantry, Boise City
Morton County, Kansas
Hands For Hope, Elkhart
Texas County, Oklahoma
Hooker Fights Hunger, Hooker
Loaves and Fishes, Guymon
Texhoma Ministerial Alliance, Texhoma
TCEC employees are your friends and neighbors. Community is part of the cooperative's principles, mission and values. Learn more about the cooperative's community efforts on its social media or at www.tcec.coop.