Tapigliani Leads #5 Seward Past Dodge City
Brock Kappelmann - October 10, 2017 12:56 pm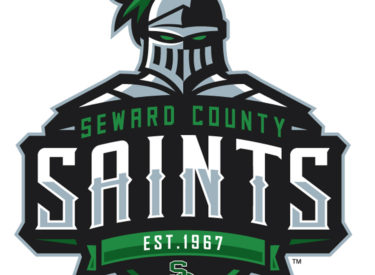 DODGE CITY, Kan. – The No. 5 Seward County volleyball team went on the road Monday night, defeating Dodge City in consecutive sets (25-23, 25-19, 25-13). The Lady Saints were led by Giovanna Tapigliani's match-high 19 kills.
The Lady Saints got out to an early 4-1 lead, but errors quickly allowed the Conquistadors back into the set. Tied 6-6, Dodge City went on a 4-0 run. The Lady Saints slowly fought their way back into the set. Down 14-16, Seward went on a 5-0 run, starting with a Briana Domino kill.
The Lady Saints still couldn't put Dodge City away, though, as the Conqs went on a 5-1 run late in the set to take a 23-21 lead. A timeout by the Lady Saints allowed Seward to gather themselves and score three straight kills, two by Tapigliani and one by Viviane Viana, to win the set 25-23.
Seward used their leftover momentum from set one to go up 7-4 early in set two. During the stretch, Tapigliani and Nascimento both accounted for two more kills. Unlike the first set, the Lady Saints never allowed the Conqs to take a lead in the second set. The Lady Saints increased their lead to as many as eight, with the score being 19-11. Blocking and attacking errors brought the Conqs back within four, but it was too late, as the Lady Saints four of the remaining six points, winning 25-19.
The third set was the cleanest for the Lady Saints, with only five attacking errors. Seward went up six, starting the set with an 8-2 run. That would be as close as the Conqs could get in the third set, as the Lady Saints continued to stretch their lead, eventually ending the set with two Tapigliani aces, winning 25-13.
Tapigliani's 19 kills were the most in a three-set match since Dan Yang had 23 kills in 2007, when sets went to 30 points. The Lady Saints finished with 49 kills as a team. Viana and Nascimento both finished with eight kills apiece. Giovanna Kuntze finished with 39 assists.
Defensively, the Lady Saints finished with 57 digs. Nathiellen Machado (12) and Viana (15) both finished in double-digits, while Domino (9) and Kuntze (9) fell one shy.
The Lady Saints will be back in action at 6:30 p.m. on Wednesday (Oct. 11) when they host Cloud County in the Greenhouse.
[cid:image002.png@01D341A4.5BCB04B0]
Ian Applegate