Talkradio 1270 to Air Ag Forum From the KS State Fair
Joe Denoyer - September 7, 2017 4:12 pm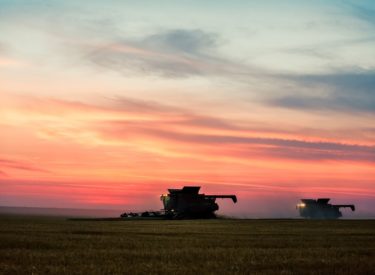 Two combines work late to cut wheat in a field on the wide open plains.
Talkradio 1270 will air a special agricultural forum from the State Fair in Hutchinson on Saturday, September 9th. The forum will feature Senator Pat Roberts, Congressman Dr. Roger Marshall, and President of the National Association of Wheat Growers David Schemm. Kelly Lenz of the Kansas Agriculture Network will be the moderator. The forum and live broadcast will be from 11:00am to 11:58am.
A lot is happening in the agriculture sector right now. This includes Congress beginning work on the next comprehensive Farm Bill, and negotiations are underway for the future of the North American Free Trade Agreement (NAFTA). It truly is a crucial time for agriculture, and these forum panelists will have a unique insight to many issues affecting agriculture.