Talcott hired as the Head Women's Soccer Coach at SCCC
Joe Denoyer - February 2, 2023 11:49 am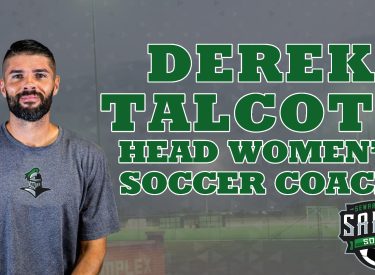 LIBERAL, Kan. – Seward County Community College has hired Derek Talcott as the Head Women's Soccer Coach. Talcott will be the inaugural women's soccer coach as Seward County will start their first year of competition this fall (2023). Talcott has been the assistant men's soccer coach at Tyler Junior College (TJC) since 2016.
"First, I want to thank President Bennett, Dan Artamenko, and everyone who was involved with the interview process. I am very excited to be a part of the Seward County Saints family." Talcott stated as he takes the reigns of the Women's Soccer program.
Since 2016 Talcott has helped TJC to 132-20 (.868), including two NJCAA National Championships (2016 and 2017) and six National Tournament Appearances. The Apaches also won back-to-back NJCAA National Championships during Talcott's first stint in the 2009 and 2010 seasons.
Before rejoining the Apache staff, Talcott was the Assistant Coach at North Area Iowa Community College from 2015-2016, the Head Coach at Cloud County Community College in 2013, and his first stint with TJC as an Assistant Coach from 2009-2010.
Talcott explained what it means to take over a new program, "It means a lot to be trusted with the responsibilities that come with building a brand-new program." He continues, "I'm humbled by this opportunity and excited to get started."
The women's soccer program will start with Talcott and his vision for the program here at Seward County. The inaugural season will start this fall, with the first match set on August 23rd here in Liberal against Kansas City Kansas Community College (KCK).
Talcott looks forward to the upcoming year, "I'm looking forward to seeing the progress from building a brand-new team and the energy that comes with it."
Seward County is excited to bring college soccer to the Liberal and surrounding communities. For any further questions, feel free to reach out to the Seward County Atheltic Department (620) 417-1551.