Szydlowska's Career High Pushes Seward Past Cloud
Brock Kappelmann - December 2, 2018 9:48 am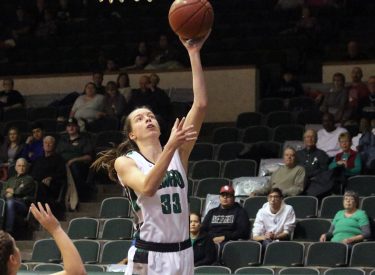 LIBERAL, Kan. – Career-highs from Karolina Szydlowska and Lexi Hernandez powered the No. 10 Seward County women's basketball team to their first Jayhawk Conference win, defeating the Cloud County Thunderbirds 80-53 inside the Greenhouse Saturday night.
Szydlowska came out firing, hitting a three on the first possession before making three more baskets to give Seward a 9-2 lead. Seward pushed their lead to double-digits just four minutes in the game with a Carla Covane free throw, 14-4. A late 9-0 run by the Thunderbirds cut the Seward lead to seven points, as the Lady Saints took a 26-19 lead into the second quarter.
The Seward defense tightened up in the second quarter, allowing the Thunderbirds to just 3-of-15 shooting (20%), including 0-for-4 from behind the arc. The teams traded baskets for the first half of the second quarter, but over the final four minutes of the quarter, the Lady Saints pushed their lead to 13 by a score of 41-28.
A slow start to the third quarter allowed the Thunderbirds to claw their way back into the game, cutting the Seward lead to single digits again by a score of 44-36, but an 8-0 run by Seward pushed the lead back to double-figures.  Cloud did their best to keep the game manageable, but a Szydlowska buzzer beater to end the quarter kept the Lady Saints out of reach, 59-46.
The Seward lead continued to grow throughout the final quarter of play, eventually reaching the twenty-point mark with another Szydlowska basket, this time coming from deep and putting her over the twenty-point mark. Kalen Green came back on the next possession with a three of her own to give the Lady Saints their largest lead of the game, 77-54.  Seward held onto their lead as the game wound down, winning 80-57.
Seward had one of their best offensive performance of the season, shooting 45.9 percent from the floor (28-of-61) and 34.8 percent from deep (8-of-23).  The Thunderbirds were held to 26.9 percent (18-of-67) from the field and 14.3 percent (2-of-14) from behind the arc.
Szydlowska came away with a career-high 21 points and 12 rebounds as the Wroclaw, Poland native finished with her first career double-double. Hernandez tied her career-high with 18 points.
The Lady Saints will travel to Iola, Kansas on Wednesday (Dec. 5) for a Jayhawk Conference match up with the Allen Red Devils.  The game will tip at 6:00 p.m. and can be heard on 107.5 FM with Brock Kappelmann on the call.
https://soundcloud.com/user-538336933/sets/2018-1201-cloud-at-lady-saints