Syris Dunlap Wins KSCB Scholarship
Brock Kappelmann - June 4, 2020 4:20 pm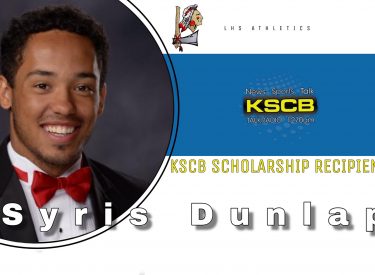 Liberal High's Syris Dunlap is the 2020 male winner of the 500 dollar KSCB Scholarship.  Dunlap played football, basketball, baseball, and track in his four years at LHS.  He also participated in the fall musical, FCA, and NHS.
Dunlap played varsity four years for the football Redskins. He finished his senior season with 1,293 rushing yards and 11 touchdowns. He passed for 715 yards and eight touchdowns. Dunlap had 38 tackles and an interception on defense.
Dunlap was a three time first team all WAC football player. He was named all state in the Sports in Kansas voting. He finishes second all time in rushing in Redskin history with 3,639 yards. He is second all time in yards from scrimmage with 5,454 yards. Dunlap passed for 1,815 yards in his career. He rushed for 37 touchdowns and passed for 18 touchdowns.
Dunlap was a WAC champion his junior year in the 200.  He participated in multiple events in state track his junior year.
Dunlap used that speed to his benefit on the diamond.  He was second team all WAC in his sophomore and junior seasons.  He his .288 with one double, two triples, and 10 RBI's as a junior.  He stole 20 bases.   He hit .346 with 11 RBI's and 18 stolen bases.
He was a three year varsity basketball player and was known for his defense.  He averaged five points a game as a senior and scored eight points with four rebounds a game as a junior.  He scored four a game as a sophomore.
Dunlap will play football at Fort Hays State University.
Each year, KSCB awards a 500 dollar scholarship to a boy and a 500 dollar scholarship to a girl.  The scholarships are made possible thanks to KSCB's sports sponsors whose ads air during Redskin, Saint, and Bee Jay broadcasts.