SWMC to Host Health Fair
Joe Denoyer - September 27, 2021 8:08 am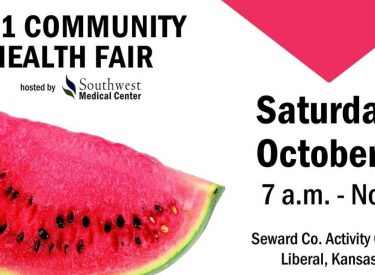 Southwest Medical Center will host a Community Health Fair Saturday October the 2nd at the Seward County Activity Center. The Health Fair is open to the public and will run from 7:00am until noon.
What type of tests are available?
Free health screenings available at SWMC booths include:
▪️ Blood Pressure Checks
▪️ Clinical Breast Exams
▪️ Spirometry Testing – measures lung function.
▪️ Pulse Oximetry Testing – measures oxygen concentration in the blood.
Free screenings offered by the Liberal Lion's Club mobile screening unit include: visual acuity/vision screens, field of vision tests, blood pressure, blood sugar & hearing tests. Dr. Mona Rane will be performing free skin cancer screenings.
The following tests are included for $35. Anyone having testing done should fast for at least 8 hours prior to testing.
▪️ Comprehensive Metabolic Profile – measures glucose levels, kidney function, liver function, and electrolyte and fluid balance.
▪️ Lipid Profile – assesses risk of developing a cardiovascular disease.
▪️ Thyroid Screen – diagnoses thyroid irregularities.
▪️ Complete Blood Count – detects conditions such as anemia, infection and blood disorders.
Optional testing ($35 general testing, plus an additional $7 each):
▪️ PSA (Prostate Specific Antigen) – screens for possible prostate cancer.
▪️ CEA (Carcinoembryogenic Antigen) – screens for possible cancers in women.
▪️ HGB A1C (Glycated Hemoglobin) – monitors long-term glucose control (3-month average).
Your results will be sent by mail within 2-4 weeks. We do not provide health information directly to providers.
What else should I know about the Community Health Fair?
There is no pre-registration required to attend our Health Fair, and this event is open to all visitors.
Many businesses and organizations focused on health and wellness will be available to provide information about their products or services. Concessions will be available at the Activity Center.
The following safety precautions will be in place:
▪️ Masks MUST be worn inside the facility at all times.
▪️ Participants must bring their own mask.
▪️ SWMC volunteers will frequently disinfect all touchable surfaces.
▪️ Areas will be marked to allow for social distancing.
▪️ If you sick or have symptoms of the flu, please stay home.
Questions? Contact Janeth Vazquez at (620) 629-6335 or Rachel Downing at (620) 629-6424.