SWMC Launches Cardiac Rehabilitation Service
KSCB News - January 16, 2015 1:51 pm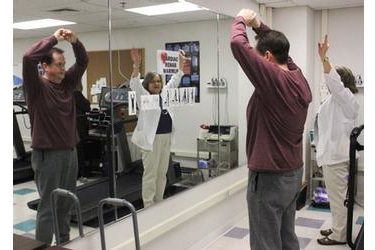 The road to recovery for area residents suffering from a cardiac event will be more convenient with the addition of Southwest Medical Center's new cardiac rehabilitation service beginning this month.
Cardiac rehabilitation is a specialized service which is available to qualifying patients who are recovering from a heart attack, heart surgery, or a procedure such as stenting or angioplasty. Through patient education, counseling, and supervised exercises, patients are able to both improve their physical health and lower their risk of future cardiac events.
Southwest Medical Center's cardiac rehabilitation program will use registered nurses and hospitalist physicians to monitor patients as they progress through three sessions per week for the six to 12 weeks of rehabilitation typically prescribed by cardiologists.
"In looking closely at feedback from our community, access to cardiac rehabilitation services has been an important area of interest for our patients," Southwest Medical Center President and CEO Bill Ermann explained. "We are focused on keeping quality healthcare close to home for the comfort and convenience of the residents we serve. We care about our patients and have added the cardiac rehab program to lessen the travel time otherwise needed for this specific treatment."
Patients can bring in their prescription or contact SWMC Rehabilitation at (620) 629-6390 to begin the process of becoming pre-certified for treatment with their insurance provider. The cardiac rehabilitation service will be available at Southwest Medical Center, 315 W. 15th Street in Liberal, alongside the physical therapy care area.
Cutlines:
CardiacStretching
Cardiac rehabilitation patient, Larry Harp, performs his warm-up stretches Friday morning at Southwest Medical Center under the supervision of program nurse, Cindy Walter. Southwest Medical Center began providing cardiac rehab services this week for area residents recovering from cardiac events and procedures.