SWMC  Launches 3D Mammography Service
Joe Denoyer - March 4, 2019 10:06 am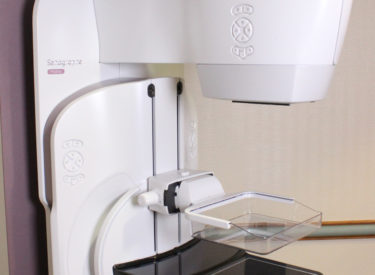 • provided by Southwest Medical Center
     Southwest Medical Center is proud to announce the addition of 3D mammography services now available in Liberal. The newly installed 3D mammography unit at Southwest Medical Center helps provide patients with access to enhanced breast imaging services closer to home.
     A 3D mammography unit uses digital breast tomosynthesis (DBT), which has become the standard of care for the detection of early breast cancer in patients.
     "3D digital mammography is revolutionary, state-of-the-art technology that allows a radiologist to see through the breast tissue layer-by-layer, more closely by minimizing overlapping breast tissues. During a 3D mammogram, multiple low dose images are acquired at different angles. Our New GE Pristina is the only FDA approved 3D mammography unit that delivers at the same low dose as 2D and is the lowest patient dose of all FDA approved systems," Southwest Medical Center radiologist, Dr. Assad Zainali said. "Mammography plays a central part in the early detection of breast cancers because it can often show changes in the breast years before a patient or physician detect them. Research has shown that annual mammograms lead to early detection of breast cancer when they are most curable and breast conservation therapies are available. Any woman with breast symptoms or a lump at any age should consult their physician."
      Additionally, this 3D mammography unit enables physicians to obtain diagnostic samples using less invasive procedures.
     "The addition of a stereotactic biopsy unit will allow us to sample suspicious breast calcifications through a small needle. The risk of bleeding and infection are very small and are reduced as compared to a surgical biopsy," Southwest Medical Center radiologist, Robert Williams, M.D., explained. "The cosmetic result from this type of biopsy is negligible, as only a 1/4 inch nick is made in the skin and a very small amount of tissue is sampled. The procedure also does not require general anesthesia and is done with local anesthetic alone. Patients can drive themselves home immediately after the procedure and resume normal activities."
     Southwest Medical Center's Director of Diagnostic Imaging, Kelly Denton, explains that mammograms are encouraged for women over the age of 40.
     "Women of average risk aged 40-44 should have a choice to start annual screening depending on their personal and family risk factors; at age 45-54 they should get annual screening mammograms; and those 55 years and older could continue annual mammograms or choose to continue mammograms every 2 years," Denton said. "Lifestyle-related risks for breast cancer include alcohol consumption, obesity, physical inactivity, not having children before age 30, and taking hormones such as birth control. There are also risk factors that you cannot change such as age, gender, inherited genes, and ethnicity.  We encourage patients to speak with their care provider about their risk factors for breast cancer, as well as the benefits of early detection through regular screenings."
     Similar to 2D mammography, 3D mammography exams are conducted in a private screening room, where a mammography unit uses x-ray technology to obtain multiple images. The entire screening process takes between 10 and 20 minutes. After a mammogram is complete, a radiologist interprets images and communicates any findings to a patient's primary care provider for additional follow-up as needed.
     The Center for Medicare and Medicaid Services and private insurance companies now provide coverage for 3D screening mammography services for beneficiaries under their plans. Individuals can schedule their screening mammogram by contacting Southwest Medical Center's outpatient scheduling office at (620) 629-6329.