SWMC Debuts #breakthesilence 5K
Joe Denoyer - August 22, 2016 6:12 pm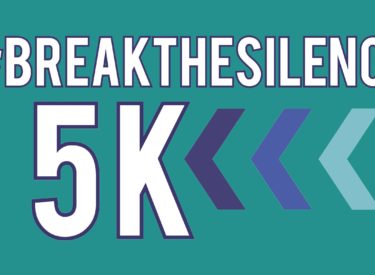 From new services to new physicians and new procedures – there have been many "firsts" for Southwest Medical Center in 2016. This year also marks the launch of the hospital's first #breakthesilence 5K – scheduled for September 10 – which will support the new Southwest Sexual Assault Services (SWSAS) program at SWMC.
"The idea to form this benefit 5K walk and run came to us from Greg Augustine at Browns Shoe Fit," race coordinator, Keeley Moree, said. "He wanted to help us organize a 5K that would not only encourage healthy activity, but also benefit a service at Southwest Medical Center. Our new SWSAS program was a perfect fit, since the program is supported by community donations."
Southwest Sexual Assault Services is a program comprised of trained Sexual Assault Nurse Examiners (SANE's) who provide medical forensic exams for victims of sexual assault in Southwest Kansas and the surrounding region. Funds raised by this race and community donations support continued educational training and equipment needs for this service.
"Our race is called the #breakthesilence 5K," SWSAS program coordinator, Jandi Head, R.N., said. "The name was selected through collaboration with the SANE nurses at SWMC and community partners from the Liberal Police Department. We want to bring awareness to the service we provide and encourage victims to seek the support and treatment they deserve, as more than half of all sexual assaults in America go unreported by victims."
The #breakthesilence 5K is scheduled for Saturday, September 10 starting at the East side concession area of Redskin Field at Liberal High School. Registration is from 8:30 to 9:30 a.m. with the 5K walk beginning at 9:30 a.m. The 5K run is scheduled to begin at 10 a.m.
"A unique aspect about our course is that it will be a certified 5K race course, which we hope will attract avid runners from surrounding communities," Moree said. "LHS track coach Tyson McGuire was instrumental in helping us set up this safe course and connecting us with resources needed to run a very well organized race."
Brown's Shoe Fit will be awarding a pair of Asics to the first male and female runners. Medals will also be awarded to the top three runners in each age division. Door prizes will be drawn for all walking and running participants following the race.
Registration for the walk and run is available online at Active.com, or by calling (620) 629-6335. Registration for the benefit 5K is $30 for adults and $15 for kids 16 and under. Participants who register by August 30 will receive a free race t-shirt. Online and on-site registration will increase to $40 for adults and $20 for kids on September 10.
"We're very excited to be hosting our first 5K for the community," Moree said. "Our hope is to spread the word about the important care our SWSAS program provides, while also promoting a healthy activity which families across our community can enjoy together."
For more information about the #breakthesilence 5K, please call (620) 629-6335 or email [email protected]