SWMC Announces New Partnership with EagleMed
Joe Denoyer - May 24, 2021 2:30 pm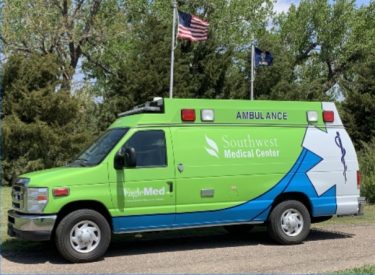 Liberal, KS- (May 24, 2021)— EagleMed, one of the oldest and most experienced air and ground medical transport service providers in the Midwest, today announced that it has partnered with Southwest Medical Center in Liberal, Kansas, to provide interfacility medical transport services 12 hours a day, seven days a week to Southwest Medical Center patients. 
"We are thrilled to be enhancing our services to the community by officially partnering with the outstanding care teams at Southwest Medical Center," said Steven Dralle, Regional President for EagleMed parent company, Global Medical Response. "We look forward to continuing to serve the communities of Kansas with high-quality patient care via our ground and air medical operations located in Liberal."
This is the third ground medical transport operation in the state for EagleMed. The dedicated ambulance will provide Advanced Life Support services and will operate with a staff of 4 full-time and 4 part-time paramedics and EMTs. 
"I am grateful for this partnership with EagleMed," said Robert Whitaker, President and CEO of Southwest Medical Center. "They are supportive of our need to serve patients throughout the region," 
"As a former Liberal resident with 20-years of experience in local emergency services, it is a point of pride to partner with Southwest Medical Center and help bring a needed ALS ambulance service to their patients," said Jon Antrim, Regional Director of Operations for Global Medical Response. "I look forward to all that we will achieve through this partnership."