Suspects Sought In Beating Outside A Garden City Bar
KSCB News - August 29, 2013 9:43 pm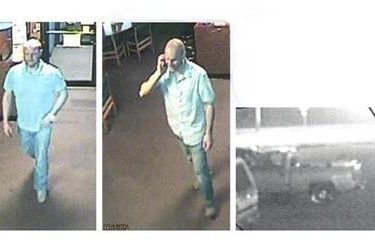 Police are looking for two suspects accused of beating a man outside a Garden City bar last week.
The incident happened shortly after 10 p.m. last Wednesday, August 21. The 31-year-old victim told officers that he was in the parking lot of the Time Out Sports Bar and Lounge when he saw two men involved in an altercation with a woman. When he tried to intervene, he said the two men hit hit several times and took his cowboy hat when they left.
The victim was first taken to a Garden City hospital, then transferred to a Wichita hospital due to the severity of injuries to his face.
Police are asking for the public's help in identifying the two men pictured above, who have been identified as possible suspects. Officers believe the men may work in the oil field industry, and were driving a pickup (also pictured) with an Oklahoma license plate.
Anyone with information is asked to call (620) 276-1300, or Crime Stoppers at (620) 275-7807.