Surakata Jawara Returns in Saints Win
Brock Kappelmann - March 14, 2021 9:10 am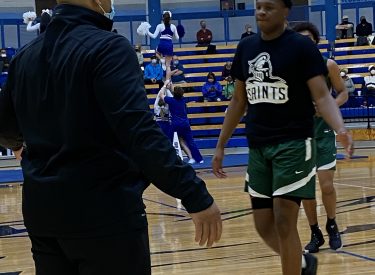 Months after fighting for his life due to myocarditis, Surakata Jawara played in a basketball game Saturday night in the Pratt Beaver Dome. In September, after complaining of a racing heartbeat and a fever,  Jawara was airlifted twice and was on the waiting list for a heart transplant.  Now #11 is back playing basketball for the Seward County Saints.  Saturday marked exactly six months since he was taken to the hospital.  As you might expect, his presence in the lineup motivated his team to a 94-86 win at Pratt Saturday night.
The Saints were shot out of a cannon to begin the game racing to leads of 13-2 19-5 and 24-7.  Seward led 28-19 at the media timeout.  SCCC led 51-33 before taking a 52-38 lead at the half.  Seward led by 18 at 60-42, 62-44, and 67-49.  Pratt rallied to cut the lead to five at 91-86 in the closing seconds.
Seward, who came into the game next to last in the KJCCC ad 72 points per game, scored a season high 94.  Seward, who came into the game next to last at 41 percent shooting from the field, shot 56 percent for the win.  Seward made 6-14 three pointers and were 28-39 from the foul line as the Beavers had to put the Saints on the foul line late.  Pratt shot 45 percent and made 10-24 three pointers.  Pratt was 16-23 from the foul line.  Seward won despite being out rebounded 33-25.
Of course, Jawara didn't log heavy minutes in his return but he did score two points.  Erik Pratt scored 19 points with six rebounds.  Kevon Cooper, Ahah Sillah, and Stephen Takyi had 12 a piece.  Sam Henderson scored 11.
Seward wins consecutive games for the first time this season and is 4-7.  Pratt is 3-10.  Seward plays at Barton Monday night at 7:30 on B107.5 and kscbnews.net.