Sunday Night Fire on Highway 54
Joe Denoyer - October 23, 2023 2:58 pm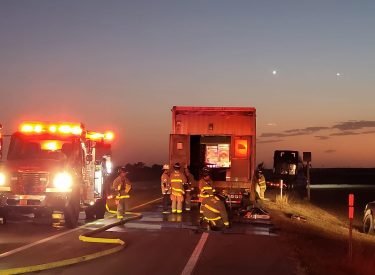 On Sunday October 22, Seward County Firefighters were dispatched to a vehicle fire reported on Highway 54 and Road P in East Central Seward County. Units arrived on scene to find a modular building in transit on fire. The driver had disconnected his truck from the load.
Seward County Firefighters were able to force entry to large two room modular building and extinguish the fire. The cause of the fire was mechanical in nature and spread from the rear wheels of the transport trailer up and through the floor of the modular building.
3 engines, 2 tankers, 2 chief officers, 1 fire investigator, and 7 Firefighters responded to the incident.
No injuries were reported and no damage value is available at this time. Seward County Sheriff's Office and Kansas Highway Patrol assisted with the incident.