Sunday Brunch With Dr. Dunn Brings Large Crowd
KSCB News - October 9, 2014 11:41 am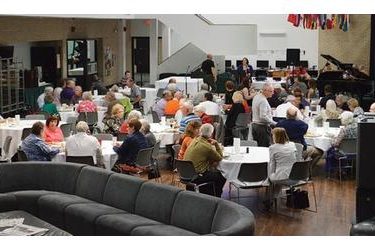 Seward County Community College/Area Technical School welcomed more than 50 guests to campus at the year's first "Brunch with the President" event Sunday.
With an array of breakfast and lunch specialties, along with hand-carved roast beef and ham, the brunch provided a leisurely start to Sunday afternoon.
Student musicians, along with SCCC/ATS music instructors Darrin Workman, Magda Silva and Diana Askew, entertained the group with help from community musicians Alesa Henderson, Becky Robison and Lydia Augustine.
Brunch dates scheduled for the 2014-15 school year are Dec. 7, Feb. 8, 2015, and May 3, 2015.