Sublette's Lucas Leads UMKC
KSCB News - August 29, 2011 1:30 pm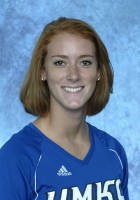 UMKC Falls In Three To Hartford
(Kansas City, Mo.) –
With their efforts n the tournament, Lucas and Kerkman were each named to the Black Knights Invitational all-Tournament Team.
In the opening set, the Hawks jumped out to a 10-3 lead and extended it to as many as nine before taking the set 25-17 despite seven kills from Lucas.
The Hawks extended their lead to 2-0 in the second set with a 25-20 set victory. In the set, the 'Roos hung close early as the score was tied at four eight points in, but a 10-2 run by Hartford midway through put the game out of reach.
In the third set, the Hawks closed out the match with a 25-19 win, despite an early 5-4 UMKC lead. In the set, seniors Kelsey Knoche and Elizabeth Beck each recorded three kills, while sophomore Chloe Jarema added two.
In the match, junior setters Brittney Robers and Ella Meier combined for 23 assists, while the 'Roos out-blocked the Hawks five to two.
The Kangaroos will be back in action again next weekend when they head to Radford, Va., for three matches in the Radford Tournament.
The UMKC volleyball team (0-3) closed out the Black Knights Invitational on Saturday morning, falling 3-0 to Hartford. Sublette Junior Emily Lucas led the Kangaroos' offensive attack with a team-high 11 kills, while senior libero Nicole Kerkman added 13 digs from the back row.
On Friday, junior Emily Lucas recorded a team-high 30 kills, 25 digs and six aces,