Sublette's Lehning Gets Hall of Fame Call
KSCB News - November 30, 2012 1:38 pm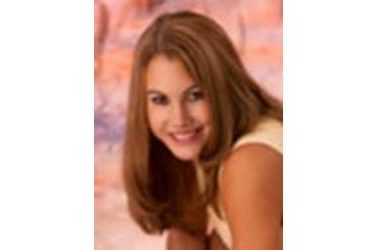 FIVE SELECTED FOR CLASS OF 2013
Five individuals have been selected for induction into the Kansas State High School Activities Hall of Fame Class of 2013. Awards will be presented during second semester, 2013, in conjunction with a KSHSAA-sponsored State function /championship or locally, at the inductee's request. The time and location of each induction ceremony will be announced at a later date @ www.kshsaa.org.
The Class of 2013 Hall of Fame inductees include:
| | | | | |
| --- | --- | --- | --- | --- |
| | | | | |
| Lindsay (Eck) Gray | Ernest Hawkins | Shalee Lehning | Richard Purdy | Victor Sisk |
LINDSAY (ECK) GRAY, BELOIT – STUDENT (Beloit-St. Johns HS 1996-2000)
Lindsay Eck epitomized the meaning of the sport of track and field, winning gold in both. During her 4 year prep career at St. Johns High School in Beloit, she won 12 Class 1A state track and field titles – four each in the 100 meter hurdles and long jump, three in the 300 meter hurdles and one in the triple jump. She capped her prep career her senior year by winning gold in all four events. Her 12 gold medals tie her for 3rd on the all-time list for individual state titles. She remains the only Kansas prep athlete, male or female, to have swept state titles in the long jump all 4 years and one of 2 to sweep the 100 m hurdles. In addition to her stellar state performances, she won 16 gold medals in the Beloit Relays &16 gold medals in the Pike Trail League Meets. Following HS she was a three-time Missouri Valley Conference Champion in the 60 m hurdles, 100 m hurdles & long jump at WSU.
ERNEST HAWKINS, POSTHUMOUSLY – FACULTY
In 1921 Professor Ernest Hawkins, Principal and teacher at the Plaza Elementary School in Ft. Scott, organized a basketball league and team (The Whirlwinds) in eastern Kansas for African-American HS students because the HS extracurricular programs were segregated at the time. In 28 years of existence, nearly 300 youth were involved, and the Whirlwinds won 378 of 420 games played. From 1923-1927 they won 67 straight games, won eight state championships and received national recognition. Team players were selected from the all black HS honor society – thus they were champions in the classroom as well. Hawkins was a great visionary with high standards of achievement which was accomplished with pride and dignity. Admired for his selflessness, dedication and commitment to education & athletics, he was inducted into the Kansas Teachers Hall of Fame in 2001.
SHALEE LEHNING, MANHATTAN – STUDENT (Sublette HS 2001-2005)
There was nothing athletically or academically at which Shalee Lehning didn't excel. A 3 sport athlete at Sublette HS, some awards and accomplishments include: all-league first team recognition in volleyball 4 yrs.; 7 gold medals at state track and field: 3 gold in 100 m hurdles, 2 gold in 300 m hurdles, 2 gold in javelin. She shattered the record books in basketball:, state all-time leading rebounder, assists leader and steals leader; 4th in state all-time scorer; led the "Larks" to back to back undefeated seasons & Class 2A state championships in 2004 & 2005; Miss Kansas and Gatorade Basketball Player of the Year; numerous all tournament and all state selections. She received Academic All League recognition in VB, BB & TR 4 yrs., was class president 4 yrs., on the "A" Honor Roll 4 yrs. After a stellar career at Kansas State University, Lehning plays in the WNBA with the Atlanta Dream.
RICHARD (DICK) PURDY, GREEN VALLEY, AZ – FACULTY
Dick Purdy's teams played in ten Kansas State championship Football Games, winning six titles – 1972 @ 6A Shawnee Mission-West High School; 1990, 1991, 1992, 1993, 1995 @ 6A Lawrence High School. In his 43 years as a head football coach, Coach Purdy posted 273 wins, 140 losses and 6 ties. In addition, he captured 6 Sunflower League titles, 6 Missouri league titles during his 6 years at Lee's Summit High School and coached in five All-Star Games in the Kansas City Metro. Purdy's teams were always extremely well-coached and disciplined. He was an educator who strived for excellence in the classroom as well as on the athletic field. His moral character and citizenship are both without equal and are what parents most hoped their children would gain from time spent with Coach Purdy. A sought-after clinician, in 1984 he was inducted into the Baker University Hall of Fame.
VICTOR SISK, LAWRENCE – ADMINISTRATOR
In 17 years as an Assistant Executive Director at the Kansas State High School Activities Association Vic Sisk made a huge impact in the areas of music, speech, debate, spirit and sportsmanship. He helped establish the "required music lists" for band, choral and orchestra to ensure the performance of quality literature. He was a key link between the Boards of the KSHSAA & KMEA. Through his leadership, Kansas speech activities moved into the 21st century with technology, innovations and enhanced opportunities for participants. He was committed to the purpose & intent of cheer and spirit regulations, especially regarding safety. Noticeable advancements occurred in school sportsmanship during his tenure. Vic worked hard in all areas to guarantee student success. In 2005 he received the NFHS Section 5 Citation for Contributions to State HS Associations.