Storm Causes Damage In Hooker Saturday Night
KSCB News - June 16, 2009 12:00 am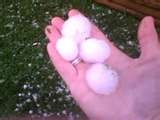 A large super cell thunderstorm hit the city of Hooker head on with golf ball sized hail Saturday night.
The storm caused heavy damage.
According to the National Weather Service in Amarillo, Texas, the storm was a left split super-cell. A left super-cell storm is known for producing large hail. The largest reports of hail were 8:45 p.m. Reports from spotters in the field confirmed golf ball sized-hail five miles southeast of the city limits of Guymon. In Hooker, baseball size hail was spotted which caused much damage throughout the city.
Damage to windows, windshields and house siding were reported in the Hooker city limits. Tri-County Electric, while having no power outages, had extensive damage to their fleet of vehicles parked at their warehouse and out in the field. Windshields were hit on several vehicles, putting them out of service.
ź??Our system did exceptionally well during the storm,ź?ť said Zac Perkins, Tri-County Electric manager of Communications and Member Relations. ź??We are still assessing the damage to our fleet at this time, but it is extensive. In our warehouse yard alone, 20 vehicle windows were broken.ź?ť
High winds were also part of the storm in Hooker. Readings from the mesonet station showed gusts of approximately 60-mph. The storm also extended to other portions of Texas Co., including Tyrone where there were also reports of golf ball size hail.