Storage Shed Fire In Guymon
KSCB News - May 18, 2009 12:00 am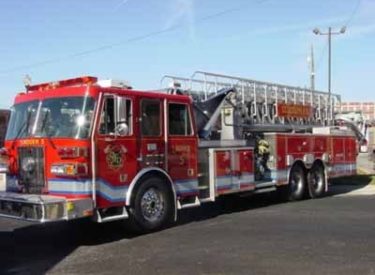 Multiple 911 calls of black smoke and flames in a neighborhood led Guymon Firefighters to a fully fire involved storage shed.
Guymon Firefighters responded to the storage shed fire at 5:04pm on Friday afternoon at 805 S. Ellison. On Firefighters arrival, they found a fully involved wooden storage shed on fire and beginning to spread to nearby trees and a mobile home. ź??20mph winds at the time fueled this fire and began pushing the flames on to the mobile home which was being occupied by a familyź?ť, said Assistant Chief Grant Wadley. Firefighters quickly knocked down the flames of the storage shed and were able to save the mobile home from any further danger. Two trees next to the mobile home were completely destroyed by the flames.
The storage shed was completely destroyed along with all the contents inside. Cause of the fire was determined to be children playing with a lighter, they were later located nearby and interviewed by fire investigators. The fire was under control by Firefighters at 5:11pm. No injuries were reported with damages estimated at $1000.
Guymon Fire units responded along with assistance from the Guymon Police Department and the Texas County Sheriffź??s Office.