Stolen Vehicle Pursuit Leads to Injury Accident, Small Fire
Joe Denoyer - October 24, 2019 6:49 am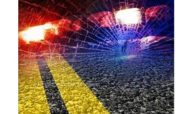 An injury accident occurred On Wednesday afternoon at approximately 2:59pm near US Highway 64 on
county road EW11 east, approximately 1 mile west of Gate, OK in Beaver County.
A 2004 Dodge Durango driven by Brian Miller,23, of Liberal (stolen vehicle) was heading east on US64 being pursued by
multiple law enforcement agencies. The Durango departed US64 onto county road EW11. Miller lost control of the vehicle entered the north ditch, and struck a small cement building.
The vehicle then overturned, rolling approximately 2 times coming to rest on its wheels
in a fence line. There was a small engine and grass fire, that was put out with fire extinguishers.
Miller was transported by Beaver County EMS to Beaver Memorial Hospital in Beaver, OK. Treated
and released.
A passenger in th Durango, Keila Arellano,27,of Liberal, was transported by Laverne EMS to Harper County Community Hospital in Buffalo, OK. She was then taken to Wesley Medical Center in Wichita, KS in critical condition with head and arm injuries.
, The accident was investigated by Trooper David Welch #I334 of the Beaver County Detachment of
Troop I. Assisted by LT Chance Husted #I158, Trooper Derrick Stewart #I671, Size
and Weights Trooper Dustin McAtee #S927 of Troop I, Beaver Police Department,
Beaver County Sheriff's Office, Beaver County EMS, Beaver County Emergency
Management, Beaver Fire, Laverne EMS and Gate Fire.