State Steps in to Help Oklahoma Meat Producers
Joe Denoyer - May 13, 2020 1:18 pm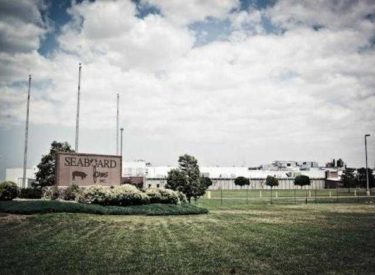 From Daily Oklahoman
State officials are now stepping in to help meat processing plants in Oklahoma, some of which have become hot spots for COVID-19 infections.
Gov. Kevin Stitt issued a sixth amendment to Executive Order 2020-13 to allow the Oklahoma Department of Agriculture, Food and Forestry to assist with potential livestock processing facility disruptions.
The animal processing sector has seen disruptions in its workforce due to COVID-19 leading to the slowing of productions lines as well as some plants shutting down temporarily.
In Texas County, home of Seaboard Foods pork processing plant, it has seen more than 400 COVID-19 infections, the fourth most in the state despite being the 40th most populated county. It's infection rate is nearly 20 people per 1,000, the highest in the state by far.
Seaboard Foods reported earlier this month that more than 150 people at its Guymon plant had tested positive for COVID-19.
"Oklahoma's ag producers, who play a critical role in providing food for millions of people worldwide, are currently facing many difficult decisions during this unprecedented time," said Gov. Stitt. "Secretary of Agriculture Blayne Arthur and the team at ODAFF are working diligently to assist our livestock farmers and ranchers across the state, and this executive order will continue to ensure they have the help they need as they navigate the challenges brought about by COVID-19.
Seaboard Foods CEO Duke Sand sent a letter to Arthur earlier this week saying the company intended to begin site-wide COVID-19 testing at the plant in Guymon.
"Due to the uncertainty of this rapidly evolving situation, it is critical our agency is equipped to respond and assist our producers," Arthur said. "This executive order allows us to ensure our land, water and air stays safe and provide producers with support during this challenging time."