Stangle Inducted into Saints Athletics Hall of Fame
KSCB News - April 7, 2014 1:49 pm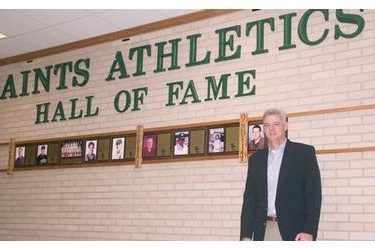 Another Seward County Saint legend was given his place in immortality on Friday night in the Greenhouse as former Lady Saints Volleyball Coach Pat Stangle was the lone inductee into the 2014 Saints Athletics Hall of Fame.
Stangle became Head Coach at Seward County in 1997, he followed with five years of the most successful volleyball in Lady Saints history. Stangle finished his Seward County career with a record of 225-34 and a Jayhawk West Conference record of 42-4. Stangle currently owns 9 all-time coaching records including, highest average of wins per season (45), conference wins in a single season (14, twice), career overall winning percentage (.869 %), overall conference winning percentage (.913 %), appearances in NJCAA National Tournament (3), best finish at NJCAA National Tournament (5th – 1999 & 2000), Jayhawk West Conference titles (2), Region VI Tournament championships (3), & 50 win seasons (2). Stangle led the Lady Saints to their first ever NJCAA National Tournaments in 1999, 2000 and 2001. In 1999, SCCC finished the season as Jayhawk West and Region VI Tournament Champions, including a 5th place finish at the National Tournament. Seward County ended 1999 52-2 overall, their best overall record in the history of the volleyball program. Stangle was named Jayhawk West Coach of the Year three times (1999, 2000 & 2001) and earned District 13 Coach of the Year twice (1999 & 2000). Stangle coached 20 Jayhawk West All-Conference players, 14 NJCAA All-Region VI selections and seven NJCAA All-Americans, including five Jayhawk West and Region VI Most Valuable Players. He was inducted into the NJCAA Hall of Fame in 2008.
Following his career at Seward, Stangle was the Head Coach at the University of Wyoming, as well as an Assistant Coach at Washington State University, and he is currently an Assistant Coach for the 2013 Conference USA Champion University of Texas-San Antonio Roadrunners.
In its third year of existence, Stangle joins the 2001-2002 Women's Basketball team, Jim Littell, Galen McSpadden, Kim Ortega, Cory Patton, Charles Brownlee, Brent Gould, and Tony Slaughter in the Saints Athletics Hall of Fame.
Along with Stangle's induction at the end of the night, several current Seward County student-athletes were honored during the Athletics/Hall of Fame Banquet. Baseball's Brent Williams was the recipient of the Wade Johnstone Award, as voted on by his teammates and Janel Tammen was the winner of the Jamie Talbert Award, also given by her teammates. WA Shufelberger Award finalists (highest graduating male and female GPA's) were Shanise Brooks, Katelyn Craker, Carmen Hughes, and Janel Tammen for the women and Keenan Hall, Austin King, Max Lusk, and Reed Thompson for the men.
Seward coaches Bert Luallen, Bryan Zollinger, and Galen McSpadden were each recognized as well. Luallen for breaking the school's all-time win mark with 226, Zollinger for his fourth straight Jayhawk West Coach of the Year award, and McSpadden for reaching the 1,100 win milestone this season.
Roy Allen