Southwest Symphony Society To Host Holiday Concert
KSCB News - December 4, 2017 12:54 pm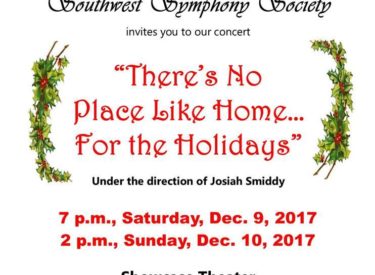 The public will have two opportunities to enjoy the Southwest Symphony Society's concert, There's No Place Like Home…For the Holidays," at 7 p.m. Saturday, Dec. 9 and 2 p.m. Sunday, Dec. 10. Both concerts will be at the Showcase Theater on the Seward County Community College's campus. Admission is a free-will donation at the door and refreshments will be served.
"Our local musicians volunteer their time and talents," said Conductor Josiah Smiddy, "and they wanted to be able to showcase that in more than one concert. As an experiment, we've scheduled two holiday concerts this year to see if we can reach a broader audience and to give our musicians more performance experience."
"I think it's a great idea to have both an evening and a matinee concert," said Kay Burtzloff, president of the Southwest Symphony Society. "This is Josiah's first year with us as a conductor and he's bringing some great new ideas and energy to the orchestra."
The concert will feature the following selections:
"Sleigh Ride" – Leroy Anderson
"Sing We Now Of Christmas" – Traditional French Carol
Selections from "The Nutcracker" – Pytor Illyich Tchaikovsky
"Home for the Holidays" – Robert Allen and Al Stillman
"Fantasy on Simple Gifts" – Traditional Shaker Folk Melody
"The Little Drummer Boy" – Katherine Davis, Henry Onorati and Harry Simeone
"O Holy Night " – Adolphe Adam
"A Christmas Festival" – Leroy Anderson
Orchestra performers will include: First Violins – Bethany Adams, Christopher Seeman, Blinda Massa, Rebekah Strand; Violas – Nancy Allen, Alison Rice; Cellos – Susan Chesnut; Bass – Troy Skinner; Oboe – Alisa Henderson; Flute – Jerilee Rediger, Marieka Ford; Clarinet – Shelly Rowson; Trumpet – Brian Stuckenschmidt, Chris Ford; French Horn – Amy Whitaker, Karen Elmore Graybill; Baritone – Elizabeth Denoyer; Tuba – Austin Gallaway;

 

and Piano – Alisa Henderson. Vocalists will include Angela Smiddy, Stephanie Drymalski and SCCC music students.
The   Southwest Symphony Society is a Liberal non-profit organization dedicated to promoting classical and contemporary music in the community utilizing the talents of local and professional musicians. For more information, contact Burtzloff at 629-0203 or visit the Symphony's Facebook page.