Southwest Symphony Society presents "Saturday Morning" Concert on May 14
Joe Denoyer - May 9, 2019 8:18 am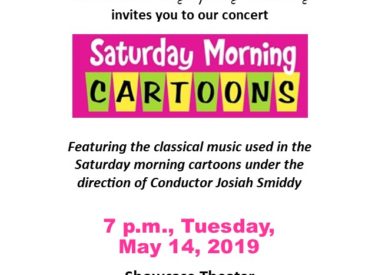 Little did you know that the Saturday morning cartoons were teaching you to love classical music but Southwest Symphony Society will bring that all back to you in its concert, "Saturday Morning," set for 7 p.m. Tuesday, May 14, at the Showcase Theater on the Seward County Community College campus. Admission is a free-will donation at the door and refreshments will be served.
"So many of the Saturday morning cartoons that we all watched and loved actually had classical music in them," said Conductor Josiah Smiddy. "We thought it would be fun to do a concert that showcases nothing but that music that had been used in cartoons. Many of them, like William Tell Overture, will be immediately recognizable."
The concert will feature the following selections:
·         Allegro con brio from Symphony No. 5 in C minor – Ludwig van Beethoven
·         Overture from the Barber of Seville – Gioachino Rossini
·         España Cañi – Pascual Marquina Narro
·         Hungarian Dance No. 5 – Johannes Brahms
·         Malagueña – Ernesto Lecuona
·         Overture from William Tell – Gioachino Rossini
Orchestra performers will include: First Violins – Bethany Adams, Blinda Massa, Rebekah Strand; Violas – Nancy Allen, Alison Rice; Oboe – Alisa Henderson; Flute – Marieka Ford, Andrea Knoll; Clarinet – Shelly Rowson, LaRie Hillman; Bassoon  –  Jasmine Howell; Trumpet – Chris Ford; French Horn – Amy Whitaker, Sherry Moentmann; Tombone – Caleb Linkhous, Natasha Hallam; Euphonium – Jacie Butler; Tuba – Noel Delgado;  Percussion – Melanie King and Myron Perry.
The   Southwest Symphony Society is a Liberal non-profit organization dedicated to promoting classical and contemporary music in the community utilizing the talents of local and professional musicians. For more information, contact Burtzloff at 629-0203 or visit the Symphony's Facebook page.