Southwest Symphony Society presents Holiday Concert on Dec. 8 and 9
Joe Denoyer - December 4, 2018 11:09 am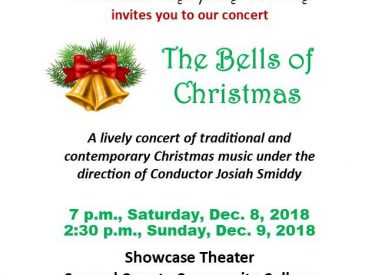 The public will have two opportunities to enjoy the Southwest Symphony Society's concert, "The Bells of Christmas," at 7 p.m. Saturday, Dec. 8 and 2:30 p.m. Sunday, Dec. 9. Both concerts will be at the Showcase Theater on the Seward County Community College's campus. Admission is a free-will donation at the door and refreshments will be served.
"Our local musicians volunteer their time and talents," said Conductor Josiah Smiddy, "and they wanted to be able to showcase that in more than one concert. I think people will be amazed at the musical talent we have in this community. We encourage families with children to come and enjoy the music and treats to swing into the holidays."
The concert will feature the following selections:
Hark! The Herald Angels Sing – Felix Mendelssohn
Silent Night – Franz Gruber
Winter Wonderland – Felix Bernard
O Come, O Come, Emmanuel – Thomas Helmore
O Holy Night – Adolphe Adam
Christmas Coronation – Ric Flauding
The Bells of Christmas – Arranged by Bob Krogstad
Orchestra performers will include: First Violins – Bethany Adams, Blinda Massa, Rebekah Strand; Violas – Nancy Allen, Alison Rice; Cello – Troy Skinner*; Oboe – Alisa Henderson; Flute/Piccolo – Claire Thompson, Jerilee Rediger, Marieka Ford; Clarinet – Shelly Rowson*, LaRie Hillman; Trumpet – Chris Ford; French Horn – Amy Whitaker, Sherry Moentmann; Tombone – Caleb Linkhous, Natasha Hallam; Euphonium – Jacie Butler; Tuba – Noel Delgado;

 

Percussion – Melanie King, and Christina Abel. Vocalists will include Angela Smiddy and Steve Leete.
The   Southwest Symphony Society is a Liberal non-profit organization dedicated to promoting classical and contemporary music in the community utilizing the talents of local and professional musicians. For more information, contact Burtzloff at 629-0203 or visit the Symphony's Facebook page.