Southwest Symphony Society Orchestra to present "Fantasia"
Joe Denoyer - February 28, 2023 2:55 am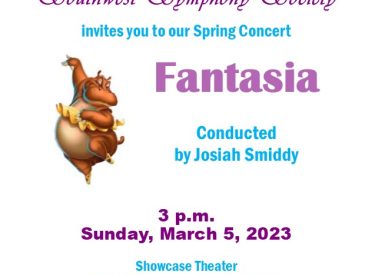 The Southwest Symphony Society orchestra will present its spring concert "Fantasia" at 3 p.m. Sunday, March 5, at the Showcase Theater on the Seward County Community College campus, under the direction of Conductor Josiah Smiddy. Admission is a free-will donation and refreshments will be served.
"All the music selected for this concert has a fantasy theme," said Smiddy. "Our local musicians volunteer their time and talents and have been rehearsing since the first of the year for this concert." Smiddy has been serving as the conductor for the Southwest Symphony orchestra since August 2017.
"I think our conductor has done a great job of mixing classical and contemporary music to provide some outstanding concerts," said Kay Burtzloff, Southwest Symphony Society president. "I think people are often surprised at the depth of talent we have in our community."
The concert will feature the following selections:
Overture to The Magic Flute – Wolfgang Amadeus Mozart
The Magic of Harry Potter – Various, arr. Michael Story
The Sorcerer's Apprentice from "Fantasia" – Paul Dukas
The Lord of the Rings: The Fellowship of the Ring – Howard Shore
Nocturne from "A Midsummer Night's Dream" – Felix Mendelssohn
Concert personnel include: Violins – Bethany Adams, Rebekah Strand, Blinda Massa (on leave for this concert); Violas – Alison Smiddy, Nancy Allen; Flute – Marieka Ford; Oboe – Alisa Henderson; Clarinet – Shelly Rowson; Saxophone – Liz Heath, Derrick Kraft; Trumpet – Chris Ford; Flugelhorn – Liz Heath; French Horn – Sherry Moentmann, Alisha Fisher; Trombone: Edgar Vasquez Escobar; and Tuba – Alex Goossen.
The Southwest Symphony Society is a Liberal non-profit organization, established in 1961, dedicated to promoting classical and contemporary music in the community utilizing the talents of local and professional musicians. For more information, call 620- 629-0203 or visit the Southwest Symphony Society's Facebook page.