Southwest Medical Center Receives 1st COVID-19 Vaccine Shipment
Joe Denoyer - December 19, 2020 6:47 am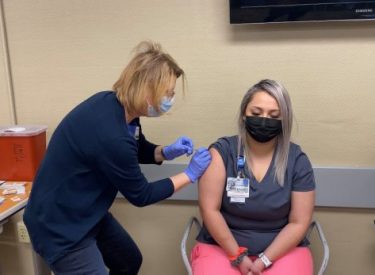 After caring for hundreds of patients battling COVID-19, Southwest Medical Center has received the coronavirus vaccine and has begun vaccinating physicians and hospital workers at the highest risk of exposure.
ER Nurse,Dora Rios Calzadillas has been treating COVID-19 patients throughout the pandemic.Today, Calzadillas was our first front line staff member to receive the Pfizer vaccine.
"I feel very excited and hopeful for the future, especially for those of us in healthcare.We're hoping this vaccine will bring some type of normality. We're hoping this vaccine will slow the spread of the virus, and help reduce the burden on the rural healthcare system," said Calzadillas.
Based on guidance from the Kansas Department of Health & Environment, more than 100 personnel and physicians working in the emergency room, critical care unit, diagnostic imaging, laboratory,and environmental services are scheduled to receive the vaccine at SWMC by the end of this weekend.
The vaccine is being administered on a voluntary basis largely because of the limited supply of doses.Despite the vaccine not being mandatory, we anticipate the majority of the staff at SWMCto opt-in.
All the employees who received the vaccine today are feeling great and healthy.When employees consent to taking the Pfizer-BioNTech COVID-19 vaccine they are consenting to comeback in 21 days to complete this two-dose series.
It will likely be several more weeks before a vaccine is available to everyone. With that, we urge the public to continue wearing masks, frequently wash their hands, and practice social distancing