Southwest Chief Passengers Experience Several Delays
KSCB News - December 8, 2013 1:33 pm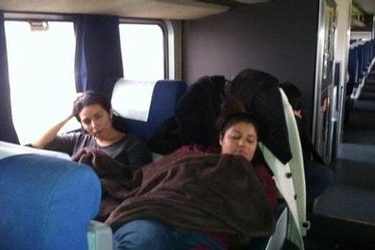 Amtrak passengers say they've been stuck on a train for 20 hours and continue to wait while the train sits idled outside of Newton, Kan.
Passengers say they boarded the train in Chicago Saturday afternoon at about 2:30 p.m. The train was scheduled to arrive in Newton around 3:30 a.m.
But passengers say the train has faced numerous delays.
They say it sat at the Chicago station for about four hours before finally leaving Saturday evening. They say the train was then delayed again somewhere in the Topeka area in the early morning hours. They say it then stopped on the tracks in the Newton area at about 6:30 a.m. That's where they say they've been stuck since.
Passengers say they've been told by Amtrak attendants on the train that there is a train with a broken engine on the tracks in front of them.
An Amtrak representative confirmed there is a "disabled freight train on the main line." She says as soon as it's cleared, "the train will continue on to its destination."
But passengers say the now 9-hour delay is growing to be too much for many people on board.
They say the electricity has been going on and off making it uncomfortable inside the train cars. They say bathrooms have become very dirty. And, they say, it wasn't until around 11:00 a.m. they were offered a snack: crackers and water.