South Plains Soars Past Seward in NJCAA Tournament
Brock Kappelmann - March 21, 2019 6:40 am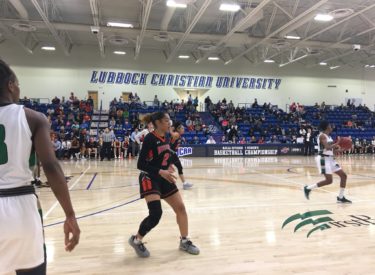 Phillip Lee
LUBBOCK, Texas – The season is over for the Seward County Community College women's basketball team. The Lady Saints were done in by the first and third quarters in their loss to the South Plains Lady Texans, 87-61, in the second round of the National Junior College Athletic Association Tournament on Wednesday at the Rip Griffin Center.
Seward, which never led in the game, kept it close for most of the first quarter, staying within five and three points. After Kalen Green hit a layup to get the Lady Saints to within 13-10 at the 2:30 mark, the Lady Texans scored the final nine points and took a 22-10 lead through one.
South Plains continued its spurt by opening the second quarter with a 5-0 run and a 27-10 advantage with 8:41 remaining. The Lady Texans held its 17-point lead with 14:12 left at 35-18 when the Lady Saints went on 11-0 run to cut the deficit to six. Aquila Mucubaquire hit a three, Karolina Szydlowska had a layup and a three and Green nailed a trifecta to bring Seward to within 35-29 with under a minute to go,
The Lady Texans answered back and scored the final four points to increase their lead back to double digits at 39-29 at the half. South Plains did not let up in the third quarter doubling up Seward, 30-15, and taking a 25-point lead after three. Seward had no answer for South Plains and trailed by as many as 29 in the fourth quarter.
Green had 21 points, including 4-of-6 from three-point range, Szydlowska added 11 points and Mucubaquire netted 10 for the Lady Saints, who finished the season at 30-4. Seward was crushed on the boards, getting outrebounded 51-25.
Sarah Shematsi had 28 points, including four, three pointers and Keke Hunter chipped in with 20 points and 16 rebounds for South Plains, which improved to 30-4 and will play Florida Gulf Coast on Thursday in the quarterfinals.