Snow! Snow! Snow! BURRRRRRRRRRR!
KSCB News - February 8, 2011 10:43 am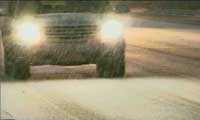 Snow is falling in Kansas as another winter storm hits the state.
The heaviest snowfall has been in northern Kansas so far with rates increasing statewide through the day. Roads were snow packed in Riley County at 5:00 a.m.
Snow will overspread most of of the state and pick up in intensity through the day. Gusty northeast winds will make for blowing and drifting of snow during the afternoon as temperatures will fall through the day with wind chills well below 0 statewide.
The snow will end across northwestern Kansas overnight while snow will remain in south-central and eastern Kansas into Wednesday morning.
Total snow accumulation forecast for the time period of Tuesday morning ending early Wednesday:
Southwest Kansas (Garden City, Dodge City, Elkhart): 3-6"
Northwest Kansas (Colby, Goodland, Hill City): 3-6"
North Central Kansas (Salina, Hays, Russell, Great Bend): 3-6+"
South Central Kansas (Wichita, Hutchinson, Ark City): 5-9"
City of Wichita: 5-8"