Snow, Ice, and Driving Too Fast Lead to Accident
Joe Denoyer - January 27, 2021 11:24 am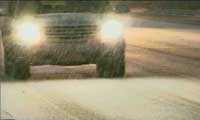 On Tuesday, January 26th, 2021 around 3:05PM, Liberal Police Officers were dispatched to a non-injury motor vehicle accident on South Kansas Avenue/Highway 83. Upon arrival, officers began an investigation and found a 2005 Chevrolet Impala driven by a 73-year-old Liberal resident was driving southbound on Highway 83 and began making a right turn onto Kansas Avenue when he slid off of the roadway, struck a stop sign and light pole. Another passing vehicle, a 2016 GMC Sierra pickup truck, was struck by the light pole as it fell to the ground. Neither driver was injured and no vehicle required towing.
The driver of the 2005 Chevrolet was cited for driving too fast for conditions.
This was LPDs 33rd motor vehicle crash of 2021. The accident was investigated by Officer Robby Ebeling.