Small and Selmi Sign at Division 1 Schools
Brock Kappelmann - April 24, 2019 6:53 am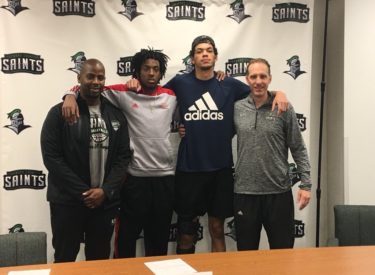 LIBERAL, Kan. – Seward County Community College sophomores Isiah Small and Mohamed Selmi will be continuing their basketball careers at Division I schools. The pair signed their letters of intent on Tuesday. Small will play with the Texas State University Bobcats while Selmi will head to be part of the Cleveland State University Vikings.
Small had a stellar sophomore season for the Saints with plenty of honors. The 6-foot-8 native of Jersey City, New Jersey was named Honorable Mention All-American, All-Region VI First team, Jayhawk West Defensive Player of the Year and Jayhawk West First team All-Conference. Small averaged 15.0 points, 6.7 rebounds, 1.8 blocks and 1.3 steals this past season.
Small joins Texas State after the Bobcats went 24-10 this season, losing to top-seeded Georgia State in the semifinals of the Sun Belt Tournament.
Selmi was having a solid sophomore campaign before a knee injury ended his season. The 7-footer from Tunisia scored double digits in five of his last seven games before the injury. He averaged 7.4 points and 3.8 rebounds this season.
Selmi heads to Cleveland State University, which is probably best known for its upset of No. 2 Indiana in the 1986 NCAAA Tournament. The Vikings, who play in the Horizon League, were 10-21 overall last season.