Slow Starting Seward Can't Rally Past Barton
Brock Kappelmann - January 5, 2022 10:56 pm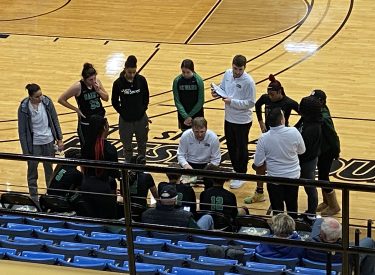 Kenny Hernandez
GREAT BEND, Kan. – Seward County Community College falls at Barton Community College 87-82 on Wednesday night. Seward County is now 10-6 on the season and 6-4 in conference play. The Lady Saints came out and trailed the Cougars 10-0 and trailed for the rest of the game but cut the lead down to a single point late in the fourth quarter.
The Cougars came out to lead 10-0 over the Lady Saints and Seward County looked to climb out of the early deficit. D'Arrah Allen connected on back-to-back threes to cut the lead down to 10-6 with 6:10 left in the first quarter. At the end of the first quarter, Seward County trailed 23-16 to Barton.
Seward County went on an 11-4 run to start the second quarter to trail BArton by one, 28-27. The Lady Saints could not gain the lead in the second quarter as they headed into the break down 38-35.
To start the third quarter the Cougars went on a 9-2 run to take a 48-37 lead over the Lady Saints with 4:52 on the clock. Seward County trailed 58-46 and responded with a 6-0 run to end the quarter. The Lady Saints went into the final quarter down 59-52
The Lady Saints cut the lead down to 59-57 but the Cougars responded to take the lead to 65-59. Sierra Lynch completed an And-1 to make it a one-possession game 65-62 as Barton led with 5:25 left in the contest. The Lady Saints completed the game within a possession with Halima Salat connecting on a pair of free throws with 2:12 left. Seward County got within one point 74-73 after a Sydney Wetlaufer three-pointer. Unfortunately, the Lady Saints could not take the lead as the Cougars closed out the game from the free-throw line to win 87-82.
Seward County was led by Sierra Lynch with 23 points.
The Lady Saints will be back in the Greenhouse on Saturday, January 5th against Hutchinson at 6 PM. Saturday's gameday sponsor is Billy's Blue Duck BBQ so head over and receive tickets to the game.