Slow Start Sinks Redskins on Homecoming
Brock Kappelmann - October 6, 2018 7:32 am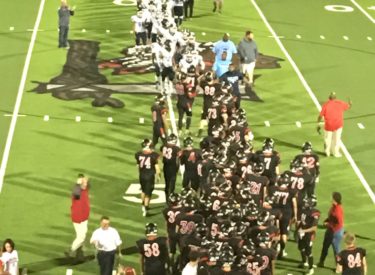 Wichita East built a 20-0 halftime lead and beat Liberal 20-7 in front of a homecoming crowd on a warm night Friday at the Gary Cornelsen Sports Complex.  The Redskins have lost five straight.
It was an inauspicious beginning for Liberal High.  East recovered their own onside kick.  But the Redskins got the ball right back on a Jose Aguilera interception on a tipped ball.  The Redskins struggled to move the ball giving it back to the Blue Aces.  Norman Massey's 38 yard run set up a five yard TD run by Elias Green.  The kick failed so it was 6-0 East with 2:53 to play.  Liberal faked a punt at their own 34 on 4th and 1 with a Braxton Hyde pass attempt which was incomplete.  But East was unable to capitalize as Cesar Burciaga blocked the field goal.  Elias Green blocked a Liberal punt and lunged in for a touchdown with 4:32 to play in the half.  The two point conversion was good for a 14-0 lead.  Braxton Hyde intercepted a pass with 1:36 to play in the half.  East wisely used two time outs with LHS moving against a stiff south wind forcing Liberal to punt to their own 30.  East quarterback Robert Lorentino found D'Ron Jacobs over the middle for a 30 yard score with :16.8 second remaining in the half for a 20-0 halftime lead.  The Redskins only mustered 43 first half yards.
Syris Dunlap, who played a strong safety, recovered a fumble for East's third turnover of the night.  However, East's Eric Davis intercepted a Dunlap pass down the sideline.  Malcolm Wiltshire returned the favor with an interception.  Jaylin Staten raced 43 yards for a touchdown to make it 20-7 with 4:08 to play in the third.  A bad snap on a punt gave the Redskins the ball at the East 13.  Liberal's Burciaga ran to the seven but was called for an unsportsmanlike conduct moving the play back 15 yards.  The Skins could not overcome that.   Braxton Hyde intercepted a ball late in the game for his second of the night.  The Redskins lost despite forcing five East turnovers.  LHS committed two turnovers.
Liberal had 188 yards of  offense and East had 241 yards.  East is 2-4 and Liberal is 1-5.  The Redskins play the only team on their schedule with a winning record, Great Bend, Friday night at 7 with Redskin Pregame at 6 on 1270 and kscbnews.net.