Slow Start Sinks Redskins in Homecoming Loss
KSCB News - October 11, 2014 7:41 am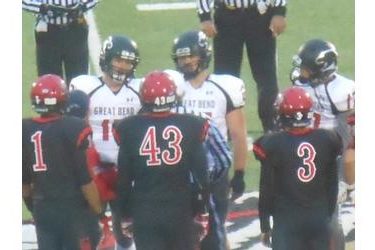 Great Bend jumped out to a 14-0 lead and beat the Liberal Redskins 28-14 Friday night at Cornelsen. Liberal finishes 0-4 in the WAC and has lost 25 of their last 26 WAC contests.
Liberal attempted a reverse on their first play from scrimmage. The play would have worked if a Liberal back had held onto the ball. Great Bend recovered the fumble at the LHS 21. Thomas Bobbitt had every carry in the drive and finished it with a nine yard TD at the 10;48 mark. Bobbitt's 41 yard scamper gave the Panthers at 14-0 lead with 4:34 to play in the first quarter. The Redskins have been outscored 72-20 in the first quarter this season.
LHS rallied in the second quarter as Jared Hasik zipped a strike to Cristian Erives on a post pattern for a 43 yard score to make it 14-7 with 49 second to play before halftime.
Great Bend took the opening drive for a score capped by a Dylan Wondra quarterback sneak on a drive which burned 6:05 off the clock. The PAT missed but the Panthers took a 20-7 lead.
Liberal's Juan Rodriguez recovered a fumble and LHS went to work offensively as Hasik lofted a beautiful pass against the wind over the top to Erives for a 47 yard gain. Hasik found Kyler Thompson for a five yard toss into the north end zone to make it 20-14 with 8:56 to play. Great Bend sealed the deal when Wondra snuck it in from one yard out with 1:42 to play.
Great Bend's Bobbitt ran for 191 yards helping the Panthers put up 332 yards. Liberal had 206 yards but only rushed for 25 yards. Hasik was 12-20 for 181 yards passing which most of that going to Erives in his first game since the opener against Ulysses.
Great Bend wins their 13th straight game over Liberal and improves to 2-4 and 1-3 in the WAC. Liberal is 1-5 and plays at 2-4 Goddard Friday night at 7 on 1270 and kscbnews.net.