Slatten Wins WAC Again
KSCB News - October 16, 2015 6:47 am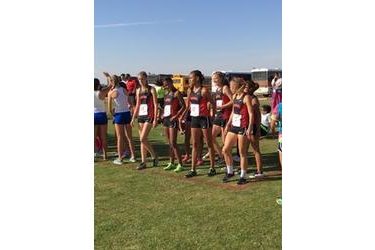 Liberal's Cam Slatten win the WAC for a second consecutive season. Slatten won by 10 seconds at Yucca Ridge north of Liberal on a sunny but breezy Thursday afternoon. Both LHS teams placed third in the WAC. The Dodge City girls won WAC with 33, Garden City had 65, LHS (70), Hays (80), and Great Bend (102). The Red Demon boys also won WAC with 27, Garden City (62), Liberal (74), Great Bend (86), and Hays (110).
Slatten won the WAC in 16:25. Saw Ahmara was eighth at 17:23, Yanelly Jurado was 15th (18:00), Kelsey Ramsey was 22nd (18:37), Chloe Alling 23rd (18:45), Tania Minjarez 28th (19:11), and Karen Hernandez was 30th (19:44).
Edgar Moreno led the Redskins taking 6th at 17:29, Emilio Tovilla was 13th (17:54), Greg McClurg 15th (17:59), Alex Chance was 17th (18:08), Antonio Borunda 23rd (18:41), Juan Beltran 26th (18:52), and Ryan Doll 27th (19:01). Garden City's Marcus Tula won the WAC at 16:41.
LHS competes at regionals at Lake Afton October 24 along with Bishop Carroll, Kapaun, Goddard, Goddard Eisenhower, Maize South, and Ark City.
Full Story by Tyson McGuire
Slatten Earns second WAC Championship and Runner of the Year Award
The Liberal Redskin cross country teams hosted the Western Athletic Conference
cross country championships last Thursday. The meet was held at Yucca Ridge Golf
Course north of town. The boys ran a 5K race at 3.1 miles while the girls ran a 4K at 2.5
miles.
Camryn Slatten came in as the defending champion, and the opportunity to be
only the third Redskin runner to ever win back to back titles. The other two were Obed
Quintana in 2013 and 2014, and Kathryn Wolfram in 1993 and 1994. Slatten didn
'
t
disappoint leading the race from start to finish, crossing the line with nobody else in
sight. Slatten will get the opportunity next year to be the only Redskin to win three WAC
titles. Saw Ahmara added All-WAC honorable mention to her list of accomplishments as
she finished in 8
th
place. Yanelly Jurado placed 15
th
, while Kelsey Ramsey and Chloe
Alling finished in 22
nd
and 23
rd
. Tania Minjarez was the 28
th
runner to cross the line while
Karen Hernandez finished in 30
th
. The Redskins finished the day in third place right
behind Garden City in second. Dodge City claimed the WAC championship for their
second straight year.
Edgar Moreno led the way for the boys Redskin harriers. Moreno narrowly missed
earning All-WAC honors coming in 6
th
place. Moreno earned All-WAC honorable mention.
Seniors Emilio Tovilla, Greg McClurg, and Alex Chance finished in 13
th
, 15
th
, and 17
th
.
Antonio Borunda was the first freshman to cross the line in 23
rd
. Juan Beltran and Ryan
Doll placed 26
th
and 27
th
. The Redskin boys finished third as well behind Garden City and
Dodge City.
The Redskins have a tough task ahead as they travel to Lake Afton Saturday the
24
th
for their Regional meet. Along with the Redskins will be Arkansas City, Goddard,
Goddard-Eisenhower, Maize, Maize South, Wichita-Carroll, and Wichita-Kapaun Mount
Carmel. The top ten individuals and top three teams will qualify for the State
Championship meet held October 31
st
.