Slatten Sets Record as LHS Competes at Newton
KSCB News - October 5, 2015 6:40 am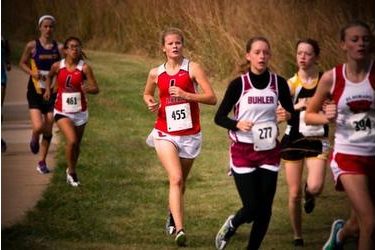 The Redskins Cross Country teams made the trip East to Newton to compete
in the Newton High School Cross Country Invitational. The meet had 12 teams of
some of the top ranked teams in Kansas 4A, 5A, and 6A divisions. Other schools
participating besides the Redskins were Buhler, Dodge City, Eisenhower, El Dorado,
Goddard, McPherson, Newton, Valley Center, Wamego, Topeka Washburn Rural, and
Wichita East. The meet had 5 races with boys and girls varsity, JV, and a boys C
team race.
The boys team were led once again by junior Edgar Moreno. Moreno
completed the 5K course in a time of 17:07 landing him with another top ten finish
in 9
th
place. Senior Greg McClurg was the only other varsity medalist with a 12
th
place finish in a time of 17:16. Seniors Emilio Tovilla and Alex Chance covered the
distance in times of 17:44 and 17:48 to finish in 23
rd
and 27
th
. Freshman Antonio
Borunda continued his impressive run as he ran a personal best time by 44 seconds
to round out the scoring spots for the Redskins. Borunda
'
s time of 17:51 was good
enough for 31
st
place. Senior Ryan Doll crossed the line in a personal best time of
18:02 in 37
th
place, while junior Juan Beltran placed 41
st
in a time of 18:15. The
Redskins ended the day with 102 points and a 5
th
place finish. Dodge City
continued their undefeated season with 41 points, Topeka Washburn Rural had 82
points, Wichita East had 94, and Newton 96.
On the Junior Varsity side, the Redskins saw four runners take the podium as
freshman Javier Carillo placed 10
th
in 18:46, freshman Joel Obando 12
th
in 18:47,
sophomore Tristen Bigham 15
th
in 18:57, and freshman Josh Diazdeleon 20
th
in a
time of 19:14. The Junior Varsity runners placed third as a team.
The girls were led by the junior trio of Camryn Slatten, Yanelly Jurado, and
Saw Ahmara. Slatten
'
s goal for the race was to break the twenty minute barrier to
not only lower her best ever time but to lower her own school record as well.
Slatten accomplished her goal as she was in a race clear to the finish, crossing the
line in second place with a time and new school record of 19:32. Jurado and
Ahmara both ran personal best times as well with 20:46 and 20:49 both making the
medal podium in 12
th
and 15
th
. Sophomore Kelsey Ramsey
'
s time of 21:29 was the
22
nd
best of the day. Junior Chloe Alling finished in the Redskins last scoring spot in
22:01 and a 33
rd
place finish. Junior Karen Heranandez and sophomore Tania
Minjarez finished in 42
nd
and 43
rd
with times of 22:31 and 22:33. All seven varsity
runners finished the day with personal best times as the Redskins finished with 84
points and a third place team finish. Dodge City and Valley Center finished with a
tie of 54 points with Dodge City winning the tie breaker based off the teams sixth
place runner.
The Junior Varsity girls saw two of their own make the podium in freshman
Joanna Suarez who placed 16
th
with a time of 23:26 and sophomore Reyn Slatten
who placed 17
th
in 23:28. The Junior Varsity girls placed third as a team.
The Varsity teams will be off next week as they prepare for the WAC
Championship October 15
th
in Liberal at Yucca Ridge Golf Course. This will mark the
first time in five years the Redskins have got to run a home meet. The Junior Varsity
teams will compete in a varsity race on October 8
th
in Cimarron.